You may like to visit above mentioned places as well
Now enjoy Full day Mumbai city sightseening in AC Bus for Rs.250!
Mumbai Darshan has become very convenient with the HOHO Bus Mumbai service. The full-day AC bus takes you to all the major tourist spots in Mumbai and gives you the luxury to spend as much time as you want to spend on any given attraction.
Keep on reading for the full details..
Get Mumbai Local Train Tickets and Pass Online
You will also enjoy reading Best One Day Itinerary To Alibaug Beach and Matheran
Table of Contents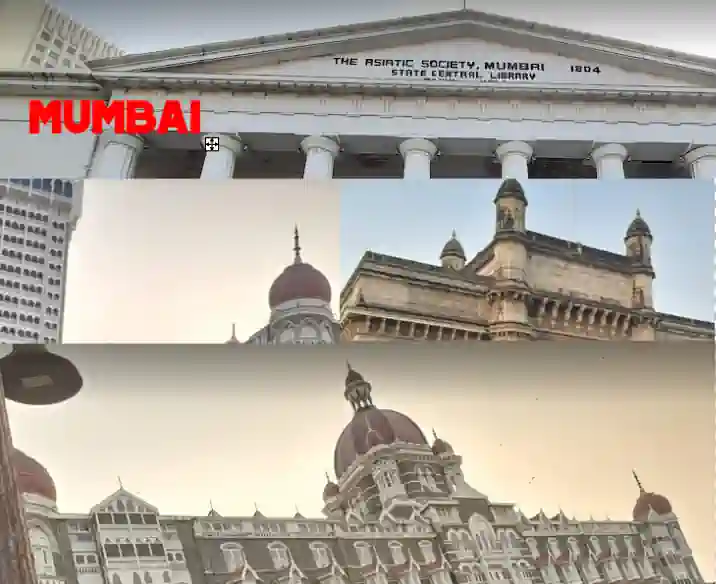 Where is Mumbai?
The financial capital of India, Mumbai, previously known as Bombay is a coastal city, located in the western part of India and is the capital of Maharashtra.
What is Mumbai darshan?
Mumbai darshan is a tour service provided by both BEST(Government bus) and Private tour operators. They cover major tourist attractions in Mumbai.
The major difference between Private Tour operator and Government bus is the time you can spend at an attraction. Private tour operator give your 30-40 min at each spot and then you have to get back in bus where as on BEST bus, you get down, enjoy the attraction as long as you want and them take the next BEST bus(these bus arrive every 30min).
Private tour operators starting from Muesume charge you Rs.250 or non AC and Rs.400/- for AC. BEST Ho Ho Charge you Rs.250/- and Rs.150/- respectively. Keep reading for details
Mumbai HoHo Bus (Hop On Hop Off Bus)
What attractions/places are covered by Mumbai Darshan HO Ho Bus?
You can enjoy the full-day Air condition Hop On Hop Off (HoHo) bus service that covers some most visited spots in Mumbai. Following is the full list:
Gateway Of India (Starting Point)
Mumbai Chatrapati Station Building (best viewed in the evening)
Jijamata Udyan, also known as Rani Baug is the Zoo
Bandra Linking Road- known for its flea market (street shopping)
Juhu Beach- sea shore, nearby you can visit ISKON temple
Bandra Bandstand- Sea facing, This is where Sharukh, Salman, and Sachin Tendulkar\'s house/bungalows are
Shri Siddhivinayak Temple via Worli sea link- Famous Ganpati temple & bridge over the sea
Nehru Planetarium: You can also check out the science center
Girgaon Chowpatty- Seashore, you can skip this if you visited Juhu
Taraporawala Aquarium- the Fish collection is pretty good
Chhatrapati Maharaja Vastu Sangrahalaya
Note: You can start your journey from any of these stops, no need to go all the way to Gateway to start your journey. A ticket will be issued at the stop itself.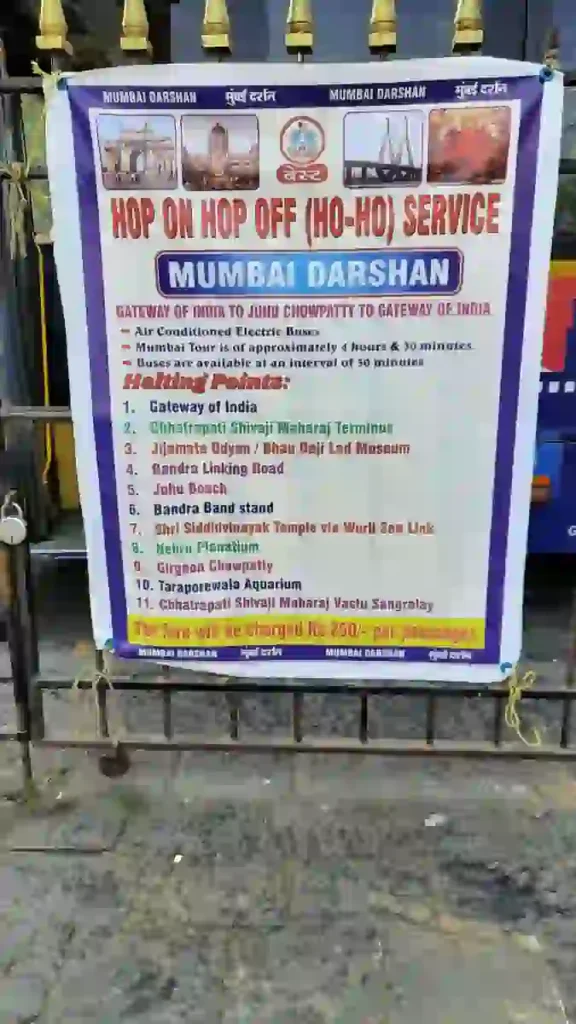 Mumbai HoHo Bus Ticket Price
So in case you are wondering how much is hop on hop off in Mumbai, well you will have to pay Rs.250/- per person to avail of this service of the Mumbai Ho Ho bus.
In August 2022, another shorter service was started with a ticket fare of Rs.150/- This bus would take you till Mahalaxmi, it will not cover Bandra,Worli sea link.
Must-Have For Travel
Amazon best-selling Sunglass from FastTrack,
under Rs.450!!
Mumbai Darshan Ho Ho Bus Timing
The bus ply between 9AM to 8PM. You can leave the trip any time, at any spot, or continue your journey full day!
HoHo Bus Mumbai Booking
No need for an advance booking for HoHo Bus, just get the tickets on the spot! Even if you board the bus at any of the stops, you can get a ticket from that spot.
HoHo Bus Mumbai Online Booking
It is advertised that you can do online booking on Chalo App but I could not find the option at the time of writing this post. Maybe later on it will be integrated.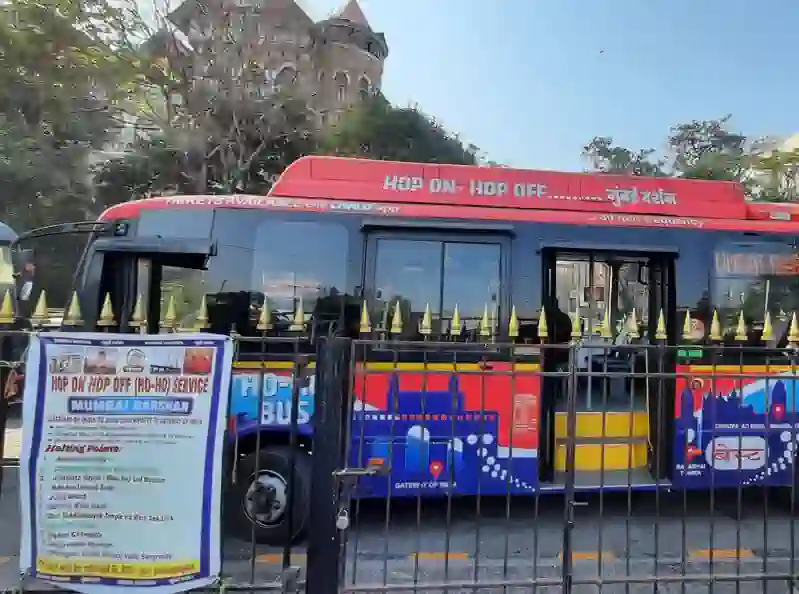 Mumbai Darshan Open bus Tour (Nilambari)
Do not mix the Mumbai HoHo bus service with Nilambari. Nilambari is not an AC bus, it\'s an open-roof top bus and does not have Hop On Hop Off facility. The complete tour on Nilambari will last around 2-230hrs.
| | |
| --- | --- |
| Nilambari Bus Timeing: | 330PM to 9PM |
| Nilambari Bus duration: | Around 2hrs |
| Tourist attractions covered: | Gateway of India, Museum, Eliphenston college, Mumbai University, Churchgate, Marine Drive, Wankhede Stadium, Charni (Girgaum) Chowpaty, Wilson College, Mumbai CST, RBI,Asiatic Library. |
| Nilambari bus ticket: | Upper deck is open and it cost Rs.250/- Lower deck cost Rs.75/- |
| Exceptions: | This service do not operate during Monsoon |
Mumbai by Geography
Mumbai can be divided in South Mumbai, Central Mumbai, and North Mumbai. South Mumbai is considered to be the poshest area in Mumbai with North being less costly, in terms of stay.
Mumbai by Connectivity
Transportation-wise, the whole of Mumbai is connected by the suburban railways, also known as its lifeline. These are the cheapest and fastest mode of traveling in Mumbai.
There are three suburban divisions namely:
1. Western Railways: Also called WR for short, operates between Churchgate to Dahanu Road, a distance of around 150km.
2. Central Railways: Called CR in short and it caters to Chatrapati Shivaji Maharaja Terminus (CST), formerly known as Victoria Terminus (VT) 
3. Harbor Railways: This shares originating station with CR and caters operates between Chatrapati Shivaji Maharaja Terminus (CST) to Panvel.
The local bus service is called BEST, it\'s the short form of the body that manages these bus services.
BEST provides connectivity across Mumbai and if used in conjunction with local trains, will save a lot of money for you during travel.
Tip: To save money while sightseeing on your own: 
1. Better buy a return ticket (cost will vary between your Origin and destination) on local and a day pass for the bus.
2. An AC bus day pass will cost you Rs.60/- (Rs.50 for non AC bus)
3. Use local train and bus in conjunction to save time as well!
Mumbai Metro Train is also operational at a few places while work is in progress for a much wider coverage by Metro.
Tourist Spots Near Mumbai Local Train Stations
Since the cheapest and fastest mode of travel in Mumbai is the local trains (suburban trains), I will list the tourist spots as per the suburban train stations.
Get Mumbai Local Train Tickets and Pass Online
Essentials during Mumbai sightseeing
Mumbai is hot and humid, most time of the year. So if you are planning for Mumbai darshan/sightseeing, the following are must-haves to enjoy your outing:
Sunglasses- this will protect your eyes along with enhance your photographs
Cap: This will protect you from the sun.
Sunscreen: This is a must else at the end of the day your skin will be tanned!
Must-Have For Travel
Amazon best-selling Sunglass from FastTrack,
under Rs.450!!
WR Tourist Spots
| # | Suburban Station | Tourist Spots | How to Reach |
| --- | --- | --- | --- |
| 1 | Churchgate | Gateway Of India, Elephanta Caves, Hotel Taj, Colaba, Nariman Point | Take a taxi or AC bus from just outside the station as you exit from the left(east) |
| 2 | Churchgate | Wankhede Stadium, Seashore | Exit from the right(west), these are within walking distance |
| 3 | Marine Lines | Marine Drive, Fish Aquarium | Exit from the west side, walkable distance |
| 4 | Charni Road | Girgaum Chowpatty | Exit from west sie, walkable distance |
| 5 | Grant Road | ISKON Temple | Exit form west, 15-20 min walk, take taxi |
| 6 | Mumbai Central | Mahalakshmi Temple, Haji Ali Dargah, Antilia, Hanging Garden, Malabar Hills, Babulnath Temple | Exit from the west, 15-20 min walk or take a taxi |
| 7 | Mahalaxmi | Mahalakshmi Race course, Planetarium, Science Center | Exit from the west, 10 min walk |
| 8 | Lower Parel | Phoenix Mall, Worli Sea Link | Exit from west, Worli Sea link is via 4 wheeler only |
| 9 | Dadar | Shree SiddhiVinayak Temple, Shivaji Park | Exit from west, 10-15 min walk |
| 10 | Dadar | Swami Narayan Temple | Exit from the east, 5 min walk |
| 11 | Bandra | Mount Mary Church, Band Strand, Sharukh, Salman, Tendulkar House, Worli sea link from Bandra side | Exit from the west, take a bus, taxi, or auto |
| 12 | Bandra | Bandra Kurla Complex (BKC) | Exit from the east, take a bus or cab or auto |
| 13 | Santacruz | Juhu Chowpatt,Juhu ISKON Temple, Amitabh Bacchachan Bunglow | Exit from the west, take a bus or cab or auto |
| 14 | Goregaon | Filmcity | Exit from the east, and take a cab or auto. General public entry restricted |
| 15 | Borivali | National Park, Kanheri Caves | Exit from the east,10 minutes walk, or take auto |
| 16 | Borivali | Essel World, Water Kingdom, Gorai Beach | Exit from the west, take a bus or cab or auto |
| 17 | Virar | Jivdani Temple | Exit from the east, walk 10 min to reach the base of the mountain |
| 18 | Dahanu Road | Govardhan EcoVillage, ISKON | Exit from the west, take a bus or cab or auto |
CR Tourist Spots
| # | Suburban Station | Tourist Spots | How to Reach |
| --- | --- | --- | --- |
| 1 | CST | Gateway Of India, Hotel Taj, Elephanta Caves, Colaba, Nariman Point | Take a taxi or AC bus from just outside the station as you exit from the right(west) |
| 2 | Byculla | Rani Baug (Zoo) | Walkable, exit from east |
| 3 | Neral | Matheran (hill station, 1-day trip) | Exit from the east, take a taxi to Matheran |
Harbour Line Tourist Spots
| # | Suburban Station | Tourist Spots | How to Reach |
| --- | --- | --- | --- |
| 1 | Kharghar | Pandav Kada water falls | Monsoon season only, take a taxi from the station |
| 2 | Nerul | DY Patil Stadium, Rock Garden | 10-minute walk |
| 3 | Nerul | Wonder Park | Take a taxi else it's a 30min walk |
Mumbai Darshan (Mumbai 1 day sightseeing trip from private operator)
If you have heard stories about crowded Mumbai local trains, believe me, they are true stories!
You can always take a private Mumbai Darshan bus or a private car from the place you are staying. This will not be Ho Ho, you will get a stipulated time to visit the attraction and you will be on the same bus for the whole tour.
It will cover the most famous places in Mumbai and you can save yourself the hustle and bustle of local trains (be prepared to  be stuck in the Mumbai traffic though)
The cost of this private Mumbai darshan tour is approx. Rs300-500/- by tourist bus or a cab will charge you Rs.5000-6000/ for a full day where as Ho Ho bus cost is Rs250/.
Tip: Its best to take this tour from a private tour operator at the place you are staying as they will pick up and drop you at a spot near to your house/stay.
Believe me, you will thank me for this advice as by the end of the day you will not have the energy to find your way back to your home in Mumbai!!
Best time to Visit Mumbai
The best time of year to visit Mumbai is September to January.
June to August is the monsoon season, and the Mumbai rains do not stop once it starts!! I love this season as Marine drive and few other tourist spots are at its best during this season. Better avoid if you don\'t like getting wet.
If you like rain, you can visit Marine drive, and nearby hill stations like Lonavala to enjoy nature.
March to May is very hot and humid, better avoid it if you want to enjoy sightseeing in Mumbai.
Food to eat in Mumbai
You will get all kinds of food in Mumbai, and a lot of Veg and Non-Veg options are available.
The traditional food is Bhakari (made of jowar or bajara) and any gravy (veg, nonveg) but Mumbai is more famous for its street food like Vada Pav, Pav Bhaji, Misal Pav, Bhel Puri, Pani Puri, Sev Puri!
Where to stay in Mumbai
Click To Get Best Hotel Deals in Mumbai
For a budget-friendly stay and a good experience, I recommend OYO Hotels. You can also walk into many of the guest houses near CST and check if its to your liking. 
Mumbai Frauds
Beware of fraudsters around the place, they dwell on cheating tourists!! This warning is not specific to Mumbai, as frauds exists at all the toursit places, across the world.
Following are few fraud techniques used in Mumbai:
Taxi Fraud: Ask very clearly what will be the approx. cost of the journey. The taxi guy may give you some amount, re-iterate that you will pay him that much money and no more once the destination is reached. Make sure to give money after getting out of the taxi else he may claim you did not pay him.
The Helping Fraud: Beware of any friendly stranger who may offer to look after your luggage or tell you about some very cheap item that is being sold just in the next street. Politely say no and move on.
Street side cards game: Many people get lured by easy money by looking at the street side card game. They are professionals and are always in a group. Stay clear of them.
Pickpockets: Keep your valuables like mobile, and wallet secure. Pickpockets will operate in crowded place like while boarding a bus or train. Wear only imitation jewelry while traveling.
The Police not in Uniform: Never give in to the threats of anyone claiming he is a cop in plain uniform. If you are at fault and get caught by a non-uniform cop, insist on going to the police station and pay the fine there instead of cutting corners. The plain cloth cop may turn out to be a con.
The Needy Guy: People may approach and tell you how they lost their wallets and don\'t have money for the bus. There will be elderly-looking guys, and ladies carrying an infant, they come in all shapes and sizes. Don\'t give them any money, at least not a big amount.
Whom To ask for directions if lost in Mumbai
The safest way is to approach traffic police or any other uniformed police person. Shopkeepers are also a safe bet.
If they are not in view, better ask for directions from multiple people before starting your journey.
Conclusion:
Mumbai may be among the most expensive cities in the world, but there are still ways you can travel around Mumbai without breaking your bank, like Ho Ho Bus!
It is a crowded city and people new in this city can get overwhelmed. If you are in Mumbai for few days, I will recommend taking the Mumbai Darshan bus or hiring a private cab for the city sightseeing.
If you have moved to Mumbai and will be staying for a year or so, you can explore the city by local train.

Is Mumbai a safe city?
Mumbai is a very safe city, apart from a few stray incidents that are part and parcel of all the cities, Mumbai is pretty vibrant till late at the night. Just avoid shabby-looking places.
Do Mumbai have a Hop On Hop Off (HoHo) tourist bus?
Yes, you can enjoy Mumbai without bothering about the crowded local trains. The AC HoHo bus gives you the flexibility of full-day sightseeing in Mumbai. The flip side is it does not cover the tourist attractions that involve traveling in a boat.
How to book HoHo bus Mumbai Online?
You can book tickets online from the Chalo app, though it's not needed as you can get tickets on bus as well.
Where to park the car in Mumbai?
It's recommended not to drive your car in Mumbai as parking is a big issue. Even if you find a parking spot, the charges are very high.
If you just cannot let go of your car, politely speak with any Petrol pump guys, they may let you park and you can tip them Rs.50-100/-
Where is Mumbai Darshan Bus Stop at Dadar?
Mumbai darshan HoHo bus stops at Shri Siddhi Vinayak, you can board the bus from there.
How to get a discount on Mumbai HoHO Bus?
Currently, there is no discount offered on Mumbai HoHo Bus but I believe if you have a big group and you are planning on a non-weekend, you can arrange a deal with the authorities.
Related Post: