Get local train ticket from the comfort of your home.
Mumbai local trains are called as lifeline of Mumbai. Daily millions of people travel using Mumbai Local. They are a mix of daily travelers who prefer getting a monthly pass or not so frequent travelers who prefer tickets.
Latest News: The range of ticket booking increased from 2km to 5km i.e if you are within 5km from a station, you can book tickets using UTS app.
Irrespective of pass or ticket, you will end up standing in queue to get it. If you are lucky, you may get it in 5-10min but I have seen people spend 45min to an hour in the ticket/pass queue.
Looking at demand of Mumbai local train tickets, Maharashtra government has restarted the facility of booking Mumbai local train ticket Online from 24th Nov 2021!
Interested in knowing how to get online Mumbai local tickets? keep reading for step by step guide…
How To Get Mumbai Local Train Pass Online
Table of Contents
What is Local Train Ticket?
To travel in local train in Mumbai or any other place, you need to pay for it. This payment is collected in the form of a ticket.
Apply for Best free Credit card that offer Free Railway & Airport Lounge Access :
How To Purchase Local Train Ticket?
You can purchase local train ticket either Online or Offline. Offline local ticket is available over the counter by standing in the queue at railway station or you can book it online using UTS app.
Note: You need to be maximum 2 km and minimum 30 meter away from the station else the app will not allow you to book ticket.
How to get Mumbai Local Train Ticket Online?
To book Mumbai Local ticket online, you need to download UTS app and create an account in it.
Do read Step By Step Guide To Download UTS App and Create an Account.
Once you have the app, follow these simple steps to book online ticket:
Note: You need to be maximum 2 km and minimum 30 meter away from the station else the app will not allow you to book ticket. You cannot book the ticket while standing on the platform or from local train!
1.Open the app and Click on Normal booking.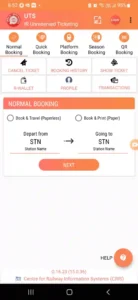 2.Select option of "Book & Travel (Paperless)". The app will check which station is near you (you need to be within 5km of station and maximum 30m from a railway station)
3.Select the Origin station as populated by app and enter your destination.
4.It will ask for:
Number of tickets you need (Adults and Childs),
Class of travel (Second, First )
Ticket Type: Single journey or Return journey
Train Type: Ordinary, AC
Payment Type: Using Rwallet or Net banking/UPI etc
5. Click on Get Fare button, it will display the ticket fare.
6. Check the details and click on Book Ticket. Select booking options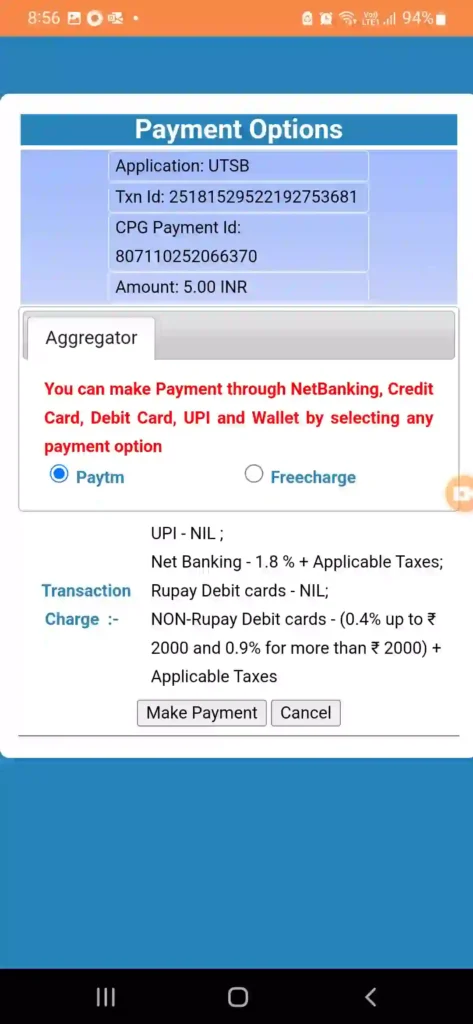 7. Select Payment method (to use UPI, select Paytm and on the next screen you will get option to enter your UPI ID or mobile number)
Note: UPI will not charge any fee, other methods may charge few paisa extra.
Note: If you select Book & Print (paper), you will have to take a printout at station. This defeats the purpose of an Online ticket. Besides there are limited printing machines and there is a good chance that it may not be working or have a queue!
Online local tickets, journey should be started within 1hour. Online local train return tickets are valid for 24 hours, can be used for return journey the next day.
Must-Have For Travel
Amazon best-selling Sunglass from FastTrack,
under Rs.450!!
How Do I Use UTS Mobile Ticket?
Once you have booked a ticket using UTS app, its available in your booking history and Show ticket menu. When TC asks for ticket, you can show him the ticket on the mobile.
Note: Show ticket option works even without internet. So do not worry about not having internet when TC shows up. You do not even have to login to the app to show ticket!
How To Cancel Online Mumbai Local Train Ticket?
To cancel the Mumbai Local Train ticket Online, you will see a cancel ticket option just below the Book Ticket.
Don't get too excited, if you try to cancel the ticket, you will get the message No ticket found even though you can clearly see the ticket in the available tickets section.
In case you selected the option to Print the ticket, you can cancel it online if the ticket is not printed. For printed tickets, cancellations can be done at UTS counters only within 1hour of ticket booking.
No cash refund will be done, the amount will be reverted to your mode of payment after deduction handling charges.
So this is a smart way to say, You cannot cancel Mumbai Local Train Ticket Online. But then how many times did you cancel your Offline ticket and were you able to cancel it?
Mumbai Local Train Time Table
Download m-Indicator app, its an excellent app for finding train time table. It will show the running status of the train as well.
FAQ's:
Can I travel in Mumbai Local Train with reservation ticket?
Yes, you can travel with a reservation ticket in local train provided the ticket covers the station you are travelling.
Eg. If you have a reservation ticket from Pune to Dadar, you can get down from long distance train at Kalyan and take a local to Thane on the same ticket.
Can we take Mumbai local train ticket online?
Yes, Mumbai local train tickets are available online on UTS mobile app.
Is UTS working now?
Yes, UTS app is working now. Government decided to allow local train ticket and un reserved tickets along with platform tickets using UTS app.
Can I travel in local without ticket?
It is not leagal to travel in local without ticket. In case you are not able to produce a valid ticket when ticket checker(TC) asks for it, you will have to pay heavy fine.
What is QR booking in UTS?
You can book a ticket by scanning QR code at the origin railway station, scan the code, enter destination and rest of the process is same.
How long is UTS ticket valid?
UTS ticket, like offline ticket, should be used within 1hr of booking and a single ticket is valid for only one trip. In case of return ticket, its valid for 24hr
Is screenshot of UTS ticket valid?
No, screenshot of UTS is not valid. You need to show it on your phone where UTS app is installed. This is to avoid fraud.
How many tickets can we book on UTS?
In one go, you can book maximum 4 tickets (including child). In case you need more, you need to book twice.
Can we book AC local ticket from UTS?
Yes, you can book AC local ticket from UTS. Select AC EMU while booking.
Is universal pass required for local train?
As corona cases declined, Government have allowed passengers to travel without Universal pass.
Is it compulsory to print e ticket?
If you have selected the print option at the time of booking ticket, then you have to print it else you will be considered as ticketless.
What is the range of UTS?
Recently railways increased the range of UTS from maximum 2km to 5km and minimum 20m from the railway station.
Conclusion:
Getting Mumbai local train ticket online is an easy process and it saves a lot of time. Do use it and share this post with others so that they can also take advantage of this facility.
Related Posts: