Neral-Aman Lodge-Matheran Toy Train timings and booking
Toy train service started between Neral & Matheran after monsoon ended in Maharastra. During monsoon, it was between Aman lodge and Matheran only.
Toy trains between Neral and Matheran started on 22nd Oct 2022! Trains from Aman lodge to Matheran were operational before that.
Neral to Matheran train timetable
| Neral | Matheran | Matheran | Neral |
| --- | --- | --- | --- |
| 8:50 AM | 11:30AM | 2:45 PM | 5:30 PM |
| 10:25 AM | 1:00 PM | 4PM | 6:40 PM |
TimeTable Courtesy: https://www.irctchelp.in
Presently 2 up and 2 down train services have been started.
Matheran To Aman Lodge Train Timetable
Sno.
Matheran
Aman Lodge
(Dasturi Naka)
Aman Lodge
Matheran
1
08.20hrs
08.38hrs
08.45hrs
09.30hrs
2
09.10hrs
09.28hrs
09.35hrs
09.53hrs
3
11.35hrs
11.53hrs
12.00hrs
12.18hrs
4
13.40hrs
13.58hrs
14.25hrs
14.43hrs
5
15.15hrs
15.33hrs
14.00hrs
14.18hrs
6
17.20hrs
17.38hrs
17.45hrs
18.03hrs
Courtesy:https://www.irctchelp.in/
Apart from these regular trains, on weekends, 4 special trains are run. 2 each between Aman Lodge , Matheran and back. Following are the timings:
| Matheran | Aman Lodge | Aman Lodge | Matheran |
| --- | --- | --- | --- |
| 10:05 AM | 10:23 AM | 10:30AM | 10:48AM |
| 12:40PM | 12:58PM | 01:05PM | 01:33PM |
As per updated time table, 6 up and 6 down mini trains will operate between Matheran and Aman lodge at a frequency of 1hr, apart from the Neral Matheran trains. Refer the timetable above for first and last train.
You may also need above information for a great trip
Avoid long queues for Mumbai Local Train Tickets and Pass, How To Get Online Mumbai Local Train Tickets?
Do Check Out The Best Plan to Bhushi Dam Lonavala
Table of Contents
Matheran Hill station is one of the most visited places by Mumbaikars. With the new wave of corona doing rounds in China, Government may soon implement some mesures at croweded places. Wearing masks will be the least one, other drastic mesures may include controlling number of visitors during weekends/holidays especially during this new year eve.
Where is Matheran Hill Station?
Matheran is a mini hill station near Mumbai. It\'s a beautiful place apt for 1-3 days trip. Its the only hill station in Asia where automobiles are not allowed!
The image below will give you an idea about Matheran from Neral.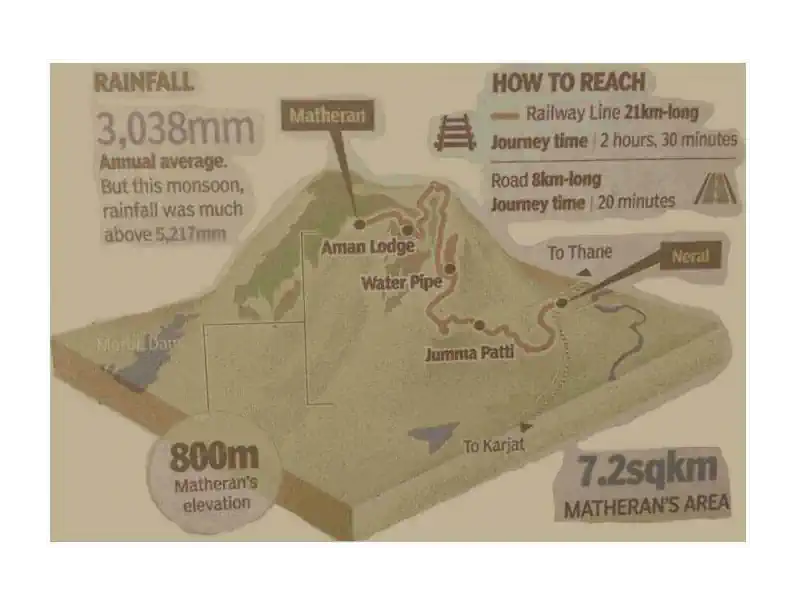 There are many ways to reach Matheran and many cheap options to stay in case you want to spend more than one day.
One Day Matheran Trip
There are many ways to travel to Matheran, depending on your origin and comfort you can opt for anyone to travel to Matheran.
Mumbai to Matheran: You can board a Karjat-bound local train and get down at Neral local train station. 
In case you are traveling from the Western (Virar, Borivali, Kandivali etc )or Harbour line (Panvel, Vashi etc), You need to reach Dadar or Kurla and get Karjat bound local train.
Note: Do not confuse between Neral and Nerul. Both are local train stations in Mumbai but Neral is in the Central line i.e trains going towards Karjat will take you to Neral.
On the other hand, Nerul is in the Harbour line and trains going towards Panvel will take you there.
Matheran Toy Train
The Toy Train(mini train) is now operational between Neral and Matheran(2UP and 2Down).Toy train service between Neral and Aman Lodge reduced to 6UP and 6Down.
Toy train from Neral is in service now as railways has constructed a robust rail track. This work is now completed and the train started from 22nd October 2022.  These will be the concrete slabs that will help prevent damage of rail tracks due to heavy rains. It will also include building bridges.
This modernization and construction work is expected to reduce the travel time by 30min. Presently it takes 2.5hrs. This construction work is expected to be finished by end of the year.
There is demand to increase the frequency, which should happen soon.
You can also take a cab right from Neral station, it will cost you around Rs.100/ per person, it will drop you near Aman lodge station.
Pune to Matheran:
You can take any Mumbai-bound long-distance train and get down at Karjat. From Karjat, take a local train towards Mumbai and get down at Nearl.
You can also drive your car or bike from Pune to Matheran, do read the precautions you need to take while driving there in the section below.
Another option is to take a State transport bus (ST bus) or auto from Lonavala till Khopoli. From Khopoli, you can take a local or bus or auto to Karjat.
Pune to Matheran Distance is around 123km
Matheran on Bike
If you are going on a bike, it's going to be a lot of work on your bike engine!! Make sure your bike is in good shape before attempting this route.
👌🏻 Cool Accessories for Bikers 👇🏼
Matheran on your own car
Do not attempt to drive unless you are an experienced driver. It will be a slow ride, most of the time you will be driving in 1st gear.
Either way, vehicles are not allowed beyond Dasturi Naka. 
Matheran Pay and Park
Pay and Park is available and the parking lot is very spacious. You will have to pay for parking your vehicle. The one day charge is Rs.45/ for a bike and Rs.85 for the car.
Rs.50 extra to keep your helmet!!
All entering Matheran have to pay Rs.50/- as environment charge.
One day is from 8AM to 8AM, in case you are not able to drive off on time, you will have to pay Rs.30/- extra.
There you will have to buy entry tickets, You have options of either walking till Matheran or take toy train or horse.
If you opt for toy train, walk to Aman Lodge station. It's a toy train station and the train is in operation from Aman Lodge to Matheran.
Matheran e-Rickshaw
Once the trial is a success, it will become a common sight in Matheran. If you are not much of a trekker and are scared of sitting on a horse/palki, this is one new option for you now.
How far is Matheran from Pune?
Matheran is approx. 120km from Pune. From Pune station, if you get a train towards Mumbai, you will reach Neral in approx. 2hrs time.
How far is Matheran from Mumbai?
Matheran is approx. 83km from Mumbai. If you take a fast local to Karjat, it will take around 2hrs to reach Neral station.
Food options in Matheran
You can either ask the locals to prepare food for you or otherwise you can check out the various eating places at Matheran Market.
Distance between Neral to Matheran
From Neral to Matheran, the distance is approx. 20km and the train ride is around two and half hour.
Neral to Matheran Trek
You can also trek from Neral to Matheran. One of the best trek is to reach Neral station late in the night (trekkers take last train to karjat and get down at Neral). 
Dodhani village near Neral station is the point from where you start your trek.
If you trek just after the monsoon season, you may find many tiny waterfalls on the way!
Carry some snacks, the night trek will be very comfortable. It may take anywhere around 3-5hrs to reach the Matheran entry point.
It's a good trek and if its a full moon night, nothing like it.
Matheran toy train booking
Toy ticket counter opens 45 min before the train's arrival time. There is no option of buying the ticket online.
The capacity of train is limited (60 seats), so if you do not get a seat you will have to wait for another 1hr in the queue or walk/take a horse.
Seating capacity chart:
| Class  | Aman Lodge-Matheran Adult/Kid | Neral -Matheran Adult/Kid   | Seats |
| --- | --- | --- | --- |
| AC Coach   | –  | Rs.415/    | 16   |
| 1st Class  | 300/180  | 300/180    | 16  |
| 2nd Class  | 45/30  | 75/45   | 60  |
| | | | |
Each person can carry 5kg/7.5kg luggage in 2nd/1st class. Only 4 tickets per person is issued, so if you need more tickets, ensure enough people are in the queue.
How To Book Matheran Toy Train Tickets In Advance?
Neral Matheran Ropeway
Its work in progress. The Neral Matheran Ropeway will become one of the tourist attractions apart from the beautiful Matheran itself.
The ropeway will have 18 towers and 25-30 cars with a carrying capacity of 1000 passengers per hour.
Matheran Entry fees
Everyone entering Matheran irrespective of the mode of travel will have to buy entry tickets. The fees help maintain the hill station.
For adults, the ticket is Rs.50 and for Childs (2-11years) it's Rs.25/-
Matheran locals rent out their houses to tourists at pretty cheap rates, you can try these houses. Else there are many resort hotel stay also available there.
The hotel rates are seasonal, from December to February you can expect higher rates. Better book a hotel in advance else you may face some challenges during peak season.
Adoma Village Resort Matheran
Adoma village or Adamo Village is a themed resort in Matheran. The colonial-era theme will really appeal to you and you will not be disappointed by the luxury provided here.
Places To Visit in Matheran
Matheran is such a scenic beauty all over, still, there are a few spots or points that tourists love to visit:
Things to do in Matheran
1. Matheran Echo Point:
As the name suggests, you shout at it and it will shout back to you!
2. Matheran Charlotte Lake:
This beautiful lake is near to Echo point. You can carry your snacks and enjoy at the lake side.
3. Matheran Shivaji's ladder:
The steep and slippery ladder could be too much for few, attempt this only if you are dressed appropriately i.e no loose cloths and good grip shoes.
4. Matheran Monkey's point:
Kids enjoy this, with so many monkeys around be careful with your snacks, better don\'t bring it at all to this point!
5. Matheran One Tree Hill point:
As the name suggests, the hill has only one tree amidst all the greenery.
You can explore many other places, the area is well marked with signs to help the tourists.
Matheran Horse ride package
If you don't want to walk a lot, you can book a horse ride package. They will show you 9-10 points, it will be covered over the day. Cost of this package is Rs.1200/ +
Is Matheran safe at nights?
Yes, since tourism is the main source of income, you can have a sense of safety, and locals are very helpful as well. Night trek is very pleasant as well. Do carry your torch though.
Things to remember for Matheran Trip
1. During the rainy season, the place will be very slippery.
2. Beware of Monkeys while carrying snacks
3. Mobile signal is one thing you will not find here
4. Be prepared to walk a lot, so wear comfortable shoes and a dress.
Matheran FAQ's:
1. Can I book Matheran toy train tickets online?
No, presently online tickets to Matheran are not available. The ticket counters are at respective stations.
2. Is the toy train working in Matheran?
Matheran toy train is now running from Neral to Matheran as well, Train between Aman Lodge and Matheran is also operational.
3. What is the Matheran toy train ticket price?
From Neral, you will be paying Rs.75/- for second class, Rs.300/- for first class(one way ticket). For the 8am train, first class is replaced by Vistadome coach and ticket is Rs.655/-
The toy train price between Aman Lodge and Matheran is Rs.45/ and Rs.30/ for adults and Kids for 2nd class, single journey.
For first class, you will have to shell out Rs.305 for adults and Rs.180 for children. The train journey is around 20 minutes.
4. How to book Matheran toy train?
Matheran toy train tickets are available only over the counter only, no online option yet.
5. What is the best time to visit Matheran?
Matheran is on top of the mountain and no vehicles are allowed inside. This makes this hill station an attraction throughout the year. If you don't mind dirt roads and getting all muddy, you will enjoy the monsoon else avoid it. Otherwise, November to February is a good season to visit Matheran.
6. What does Matheran mean?
Matheran means "Forest On Forehead" (of the mountain)
7. Is Matheran open now?
Yes, Matheran is normally open all year unless there are restrictions imposed by the Government due to Covid or any natural disaster.
8. Can we go to Matheran by car?
Yes, you can go to Matheran by car. You will have to leave the car at the entrance of Matheran as vehicles are not allowed in Matheran.
There is a huge parking lot, you can park outside and either walk or hire a horse to visit points at Matheran.
9. How to reach Matheran from Mumbai Airport?
Once you land in Mumbai, you can book a cab to Matheran. You can also reach the nearest local train station (Kurla or Kanjurmarg) and take a local train towards Karjat and get down at Neral.
10. Is Matheran safe for kids?
Yes, Matheran is safe for kids, just take the precautions that need to be taken when visiting any hill place.
11. What are Matheran Toy Train Timings?
Matheran Toy train starts around 8am and the last train is around 5pm. Do note that now trains have started between Neral and Matheran as well, 2 up and 2 down. Trains between Aman Lodge and Matheran are also operational.
Conclusion:
Matheran travel is easy with lots of options available. You can visit there as a couple or for your honeymoon!
The connectivity from Pune to Matheran is as good as that with Mumbai!
Mumbai Related Article
₹250 Only for Mumbai Darshan In AC bus
Unique Farms Resort Near Mumbai