You may also like to visit above recommended places
Vaishnodevi Pony Charges 2023
Planning to visit Maa Vaishnodevi Mandir (Temple) and looking for details of Vaishnodevi yatra? You have reached the correct place.
In this post, I have shared my personal experience and other details that will help you plan your yatra better. Lets start with the pony and palki charges.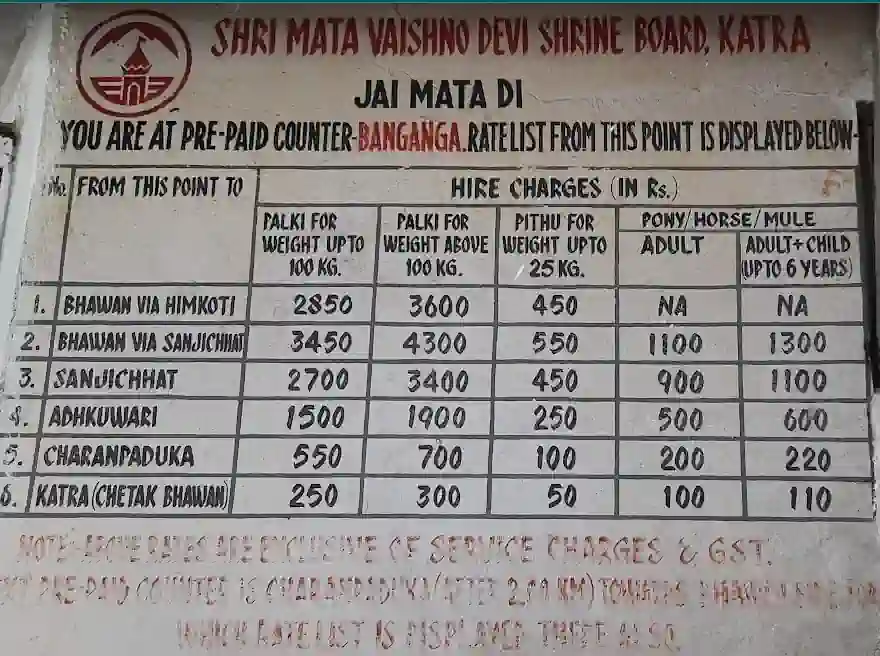 Keep reading for other details..
Table of Contents
Who is Maa Vaishnodevi?
Vaishnodevi, popularly known as Maa Vaishno Devi is a Hindu Goddess. Maa Vaishnodevi is the incarnation of Goddess Laxmi. It is said that Bhairavnath tried to capture her when she was a little child.
She fled towards Trikuta mountain, into the caves to protect herself. There she prayed for months and reemerged as Goddess Kali to kill Bhairavnath.
Bhairavnath repented for his sins and asked forgiveness. Maa Vaishnodevi forgave him and since then the Vaishnodevi yatra is not complete without visiting the Bhairavnath temple.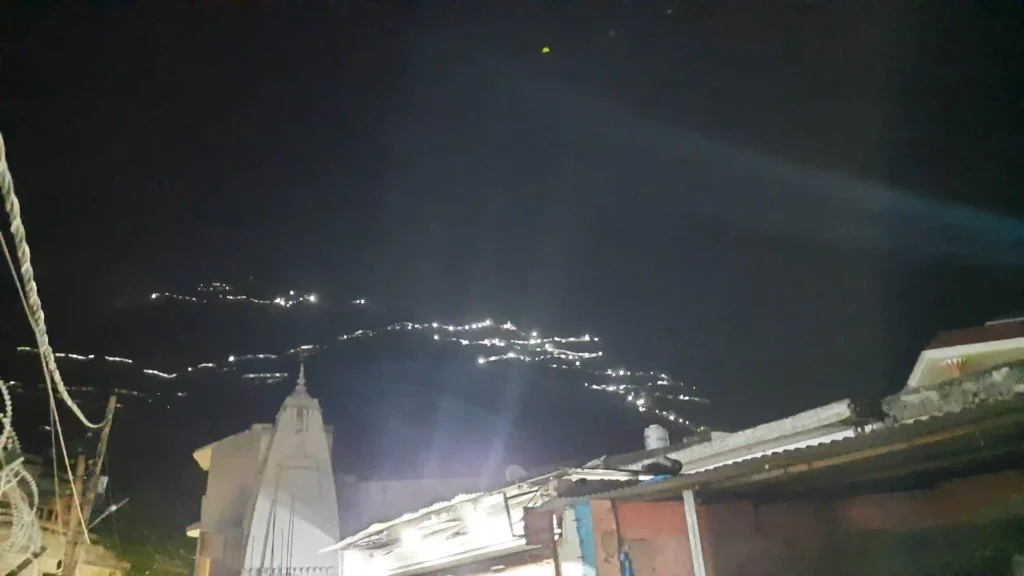 Where is Vaishnodevi?
Vaishnodevi Temple is located in Katra. Katra is around 50km from Jammu, a state in the northmost part of India.
How To Reach Vaishnodevi, Katra?
Maa Vaishnodevi Temple is located on top of the mountain Trikuta. Trikuta mountain is in Katra. You can reach Katra using any of the following means:
1. Katra By Flight:
The nearest airport to Katra is Jammu Airport. You can reach there by flight and from there you need to take a cab to Katra.
Katra is well connected with other parts of India, most of the flights are via Delhi.
Cheap Airfares from Google Flights
2. Katra By Train:


Few of the trains will take you directly to Katra but most of the trains end at  Jammu Tavi railway station. In case you get a direct train to Katra, the station name is Shri Vaishno Devi Katra Railway Station
Jammu Tavi is well connected with other states via train. In some cases, you may have to change the train from the Delhi railway station.
From Jammu Tavi, you can either take a taxi or bus to Katra. It's around 1-2hours ride.
Delhi to Vaishno Devi Train
You will find daily trains from Delhi to Vaishno Devi (Katra) in case there is no direct train from the place you are traveling.
3. Katra By Bus:
You can also take a bus from New Delhi to Katra in case you do not get a train reservation. It's around 10hr journey or you can take a bus or taxi from Jammu railway station. Bus will charge your around Rs.100/- taxi will be Rs.1000/-
Vaishno Devi from Katra
To visit Maa Vaishno Devi Temple, also called as Bhavan, its a climb of around 25km from the base called Ban Ganga.
Ban Ganga is around 1-1.5km from Katra Bus station and Katra railway station.
At Ban Ganga entry point, you will be thoroughly checked for any prohibited items like firearms, alcohol, cigarette, tambakhu etc
There is many more check posts on the route where you will be checked for possession of any prohibited stuff.
Note: When Covid protocol is enforced, you will also be checked for Yatra Parchi (Visit Slip). 
When I visited in May 2022, covid protocol was not in place hence I was not asked for it though I was carrying it.
The latest news is yatra parchi has been discontinued, instead you need to get a RFId (free). It is like an access card that stores all your details. These can be obtained from the old Yatra Parchi counters
Ban Ganga Ghat:
There are two ghats where you may want to take a bath/sprinkle water on yourself, and wash your feet and hands before moving ahead with your trek.
The second Ghat is around 500m ahead of the first one.
Note: Don't expect too much water in Ghat, it's just good enough to wet your face, feet, etc.
Ardh Kuvari:
On the way, you will cross paduka and a few more landmarks, the biggest one being Ardh Kuvari.
Note: Ardh Kuvari is almost halfway to Bhavan. 
You will have to take a token for Ardh Kuvari darshan. People are sent in batch of 40 for Ardh Kuvari darshan.
You will have to keep all your belongings (except the clothes you are wearing)  in a locker.
Note: You may have to wait for almost a day or more for Ardh kuvari darshan, most of the people take the token and visit Ardh Kuvari on their way back.
In case you don't want to visit Ardh Kuvari, you can save around 1km of walk by taking the diversion, watch for the directions.
Note: You may miss this direction if you take stairs.
Maa Vaishno Devi Temple or Bhavan
You will have to keep all your belongings (except the clothes you are wearing)  in a locker. Do keep some cash in your pocket before depositing your wallet in the locker.
The locker facility if free but at times you may end up waiting for a few hours to get access to the locker.
Note: There are multiple locker facilities available at Bhavan, so do not get stuck at the first one itself.
Mata Vaishnodevi Prasad
Buy prasad (bhaint) upfront, before standing in the queue in case you want to offer it to the Goddess.
You can buy prasad for Rs.70/- or more
You will be given a token along with the prasad (coconut) that you can offer. Once you are coming out after darshan, you will have to show the token and get the prasad.
Stand in the queue for the darshan, you no longer are allowed to pass through the narrow cave (Vaishno Devi gufa) but you can view it on your way to Maa Vaishnodevi darshan.
The Darshan will be short, you will not be allowed to stand for more than a second and the security will ask you to keep on moving.
At darshan, a small packet of prasad will be given to all at no cost.  The packet contains sweet (mishri), a coin with mata's image (non metal)
Note: You can break from the queue after darshan and stand in a corner for few minute, security may not bother you as long as you are not hindering queue movement.
Bhairo Baba Darshan
Your darshan will not complete till you visit Bhairo baba, the Bhairo Baba temple is further 2km ahead.
You can either go on feet (2KM trek) or take rope way till there, it will cost you Rs.100 for return trip.
More on rope way in the section below. 
Back to Katra from Bhavan
The return journey will be bit faster but be careful, you may sprain your ankle or put extra stress on your knees.
Ways to reach Vaishno Devi
 In case you do not want/cannot walk/climb the 15km of stretch, there are various other options available.
Vaishno Devi by Helicopter
You can use the Helicopter service which will drop you around 2km from Bhavan. From there either you can walk or take a horse ride or a palki.
You can also get Helicopter ticket from Niharika bhavan based on availability.
Note: You will have to do online booking around 2-3monts in advance. Do not believe local agents, there is a scam for helicopter booking.
Vaishno Devi On Horse Back
From Ban Ganga, you can get a horse to Ardh Kuvari or Bhavan. You can make on-the-spot booking as there are plenty of horses available.
Vaishno Devi On Palki
From Ban Ganga, you can get a palki till Ardh Kuvari or Bhavan
Battery car Vaishno Devi (Electric Car) booking
From Ardh Kuvari, you can take the electric car. Better book it online else in offline mode preference will be given to old age or differently enabled people. This is again depending on the availability of seats.
This facility is available from 1030am till 5-6pm only.
During the night, electric cars are put on charging and are not available.
In case you want to do an on-the-spot booking, you will have to wait for your turn (anywhere between 30min to 2hrs) till the vacant electric car is available.
Tarakot route
There is an alternate route from Tarakot. You can reach Tarakot from Katra bus stop, Rs.10/- per person. Auto will charge your around Rs.200/-
You will not find any horse or palki on this route but not many prefer this route. In case you are coming with a group of 8-10 people, you can try this route.
On this route, you will find 24hrs free langar run by Shrine board (the one on the old route is not 24hrs).
| | |
| --- | --- |
| Advantages of Tarakot route: | Dis-Advantages of Tarakot route: |
| The route is not croweded | You will miss the thrill of walking with other devotees. |
| Toilets are well maintained and clean | This route is around 1km longer |
| 24hr free langar service | No horse/battery car/Palki on this route. |
Note: Tarakot route is motrable, I think in future you will get battery car service on this routh.
Bhavan To Bhairavnath Ropeway
Once you have done Devi darshan, you can visit Bhairavnath via ropeway. There is a separate queue for it and around 40 people are allowed in the ropeway cabin in one time.
Bhairavnath Ropeway booking
Don't get overwhelmed by the ropeway queue, it gets over quickly once the ticket counter starts.
The ticket cost Rs.100/- per person for the return trip, even if you want one way you will have to pay Rs.100/-
The timing is from 730am till 430-5pm.
Shrine Board rates for Pony, Pithoo, Palki
Destination
Pony
Pithoo
Palki
Helicopter
Katra To Bhavan
Rs.1250
Rs.540
Rs.3150
Rs.1800
Katra To AdhKuari
Rs.650
Rs.340
Rs.1850
Vaishno Devi Food Options
You will find many food stalls, juice stalls on your way till AdhKuari, after that there is very less option.
Gulshan Kumar Langar in Vaishno Devi Timing
There is a langar around 1km from the entrance, named after T-series owner late Gulshan Kumar. Previously it use to be open 24 by 7 but now it opens around 11am till 3pm.
Water outlets are present along the way, so no need to carry too much water with you.
Note: Do carry enough cash, the smaller notes the better. You may face issues with wallet payments due to signal issues.
There are a few ATMs on the way but I found "No Cash" or not operational sign boards, so don't be dependent on it.
VaishnoDevi Toilet Options
You will find clean toilets along the way till Bhavan at the gap of every few km.
Vaishno Devi Medical Emergency
Its recommended not to take this yatra if you are not feeling 100% fit. In case of any emergencies, there are few medical centers on the way, you can take their service.
Vaishno Devi Temperature
Being on the mountain, the weather in Vaishno devi is pretty cold as compared to the base.
Vaishno Devi Shrine Board
Managing the huge inflow of devotees is a humangus task.
To manage the whole yatra, safety and convenience of devotees, vaishno devi shrine board has been formed.
Vaishnodevi Hotel
There is no dearth of Hotels at Katra. You can book hotels online of just show up at Katra bus stop/train station and there will be many agents chasing you for ha otel room.
I found that online hotel booking is pretty costly as compared to booking it after reaching Katra. You can almost save Rs.500/- per day by booking on the spot.
The agents chasing you at Katra bus stop or railway station will provide you vehicle free of cost till the hotel and will also drop you back at bus stop/station.
Just keep some buffer time in hand as their free cab service may not be available immediately.
You can also opt for Vaishnodevi shrine board stay options. 
Shrine board offers AC rooms, non-ac rooms, and dormitory but make sure to book it online months in advance else these may not be available for offline booking.
Note: The guys promising you the excellent facility and walkable distance from Ban Ganga may not be speaking the complete truth. You may have to walk 5-10 min from the point they drop you for the Hotel room, with luggage it may not look very short distance.
If you booked a budget hotel, better carry your own bedsheet as I found the hotels did not change the sheets every time the room was vacated.
Vaishno Devi Yatra Parchi Online
Not insted of Yatra Parchi, you will be issued with a RFId card (the one we use to access office). It has all the details about you. Good to see digital trend catching up !!
To streamline the number of visitors to this religious shrine, the Vaishnodevi shrine board introduced Yatra Parchi.
You can get this yatra parchi either online or offline, free of cost.
All you need is your Aadhar card. For Offline Yatra Parch, there is an Office near the Katra bus stop, you can get it from there. You can either take a print or carry the soft copy on your phone.
The hotel guys approaching you for a hotel room stay will promise free yatra parchi, but once in hotel, they will ask you to get the printout or pay for it.
When I visited Vaisho Devi, covid was pretty much in control and no one asked for yatra parchi.
Note: Pre-paid mobile networks do not work in Jammu, so if you want to stay connected, get a post-paid or a sim in Jammu.
How to book a room at Katra railway station?
You can book a room at the IRCTC hotel at Katra railway station. Visit the IRCTC website for online booking. Booking can be done offline as well but do not take risks as rooms may not be available.
Hotel stay at Jammu
Always book your stay Online. In case you did not, you will have to settle for any hotel room that is available. In religious places where crowds are huge, do not expect very hygienic rooms if the hotel is a budget hotel.
Conclusion:
Vaishnodevi Yatra is not an easy one, with proper planning and guidance provided in this post, you will be able to make it more comfortable for yourself and your family.
My verdict: The shrine board dormitory is better than the budget hotel rooms offered by the local hotelier. This is true for both Jammu and Katra.
You may be full of religious thoughts but do understand that business at religious places are still business. The local run hotel stay may not care about any review as they are not present online and secondly with so many people coming in, they will definitely find someone or other to occupy their room,
Is there a ropeway till Vaishnodevi?
No, the ropeway is only from Maa Vaishnodevi temple to Bhairo Baba temple. This ropeway is closed for maintenance 3 days a month, mostly in the mid of the month.
What is the name of Vaishno Devi Station?
Vaishno Devi Station's name is Shree Mata Vaishno Devi Station (SVDK)
Is a retiring room available in Katra railway station?
IRCTC-operated rooms and dormitory are available at Katra railway station. You can also avail the bathing facility by paying a minimal amount.
What is Vaishnodevi battery car timing?
The battery car do not run 24 hrs, it starts at 9AM and available till 6PM. During nights, its kept for charging.

Related Posts:
Indulge in the spirituality, Adiyogi Travel Guide