Toy train will not be operational during monsoon i.e 10 June to 15 October 2023
You may also need above information for a great trip
How to book Neral Matheran AC Saloon Coach?
Starting 24 Feb 2023, Central Railways have decided to offer a 8 seater AC coach for Neral Matheran round trip. This is a demand only coach and if no one books it this coach will not be attached to the toy train!
Note: This AC saloon coach is not same as Vista dome coach.
Need details? Keep reading….
Matheran Toy Train Timings From Neral and Aman lodge & back
Table of Contents
What is AC Saloon coach?
A saloon coach is like "Home On Wheels". It has luxury facilities like sofa, AC. On long distance trains, it have beds as well.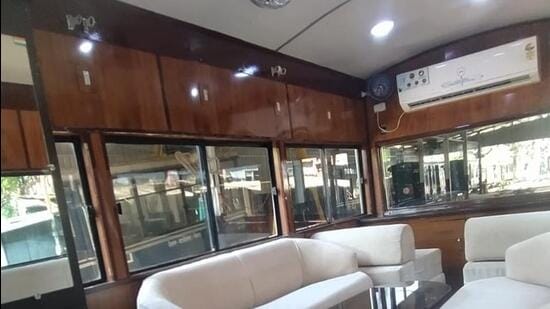 Neral Matheran AC Saloon coach
Matheran is one of the favourite weekend spots for Mumbaikars & Puneites. Looking at the popularity of toy train that was re-started after many years, CR added many luxry feature to encash on the popularity of this mini train.
Neral Matheran Toy Train service resumed!!
First AC vista dome coach was introduced and now this whole personal coach. The demand needs to be seen as this is a costly affair.
How to book Matheran AC Saloon coach?
To book this luxurious coach, you can visit any station at Central Railway and book coach 7 days in advance by paying 20% of the total cost along with a refundable fee for Rs.10,000/-
The remaining 80% needs to be paied atleat 2days before the travel.
Cost of Matheran AC Saloon Coach
Keep following points in mind before booking:
Booking is for return trip, one way trip is not allowed.
Booking is for full trip i.e Neral to Matheran and back, its not available from Aman lodge
Extra charges for over night stay
Weekends are more costly than weekdays
The table below summarizes the costing for you:
| | | |
| --- | --- | --- |
| Type of booking | Cost (Return trip) | Comments |
| Week day booking (Monday-Friday) | Rs.32,000/- | 8:50/10:25AM & Return at 2:44/4PM same day |
| Weekend booking (Saturday-Sunday) | Rs.44,000/- | 8:50/10:25AM & Return at 2:44/4PM same day |
| Next day return | Rs1500/1800 (weekday/weekend) per hour detentation charges. | So overnight stay will cost you Rs.24,000/43200 extra!! |
Matheran AC Saloon coach cancellation
Remember following rules of cancellations:
No refunds if cancellation is done within 48 hrs.
If full payment is not done 48 hours before the travel date, the booking will be cancelled and no refunds will be made, even security deposit will not be refunded .
If the above two rules do not apply to you, then refund will be made but security deposit will be forefeited.
Pros and Cons of AC Saloon coach
Pros
Cons
You can book the toy train ticket in advance
from any CR railway station
Cancellations cost is high
Private coach for group
You will have to pay for full coach even if your group
is smaller than 8 persons.
Facility of overnight stay
Cost of overnight stay is very high.
No need to stand in queue for tickets
Tickets are at the higher side.
FAQ:
Can we book Matheran toy train in advance?
Now you can book Neral Matheran toy train AC Saloon coach 7 days in advance.
Difference between AC Vista Dome and AC Saloon coach same on Matheran toy train?
Apart from the huge difference in cost, there are few differenced.
1.Vista dome coach is also AC and you need to get its ticket from ticket counter depending on the timeing of toy train where as for saloon coach you will have to book it 7 days in advance and the booking is for the whole coach.
2. Saloon coach is super luxury private cabin with comfortable sofa.
Conclusion:
Neral Matheran AC saloon coach facility by CR is really good initiative for earning more revenue on this route, only time will tell the demand as the cost is on higher side.
General public will not be able to affort it, it may be good for corporate team outings. Hopefully it does not become a freebee for government and political big shots!!
Related Post:
How to get the best from Matheran Trip