You may also like to visit above recommended places
Complete Guide To Govardhan Eco Village, Mini Vrindavan, Palghar (Near Mumbai)
Govardhan Eco Village also known as mini vrindavan in Mumbai is an exact replica of Vrindavan. Setup by ISKCON, this Eco Village offers spiritual tour along with some cool facilities that kids will enjoy.
Interested to know details? Keep on reading for the complete guide…
Note: This is not a tourist place, its a place of devotion hence appropriate behaviour is expected by the visitors. Also,Jio mobile network is good here. For other providers, you may get signal only at the entrance gate and few other places.
Table of Contents
What Is Govardhan Eco Village?
Govardhan Eco Village is a replica of the original Vrindavan , Uttar Pradesh. It has two main temples and many small temples, Vrindavan, Yamuna ji, Govardhan parvat, Mathura, Gokul and many more religious places that were part of Lord Krishna's life.
Where is Govardhan Eco Village?
This mini Vrindavn by ISKCON, also known as Govardhan Eco Village is located around 108 km from Mumbai, 35km from Palghar, a town near Mumbai.
People also refer to it as Govardhan Village at wada or mini vrindavan palghar or mini vrindavn in Mumbai.
Mini vrindavan Palghar address:
Mini vrindavan palghar address (Mumbai) is Galtare village, PO: Hamrapur, Wada Taluka, Palghar district Maharastra.
How To Reach Govardhan Eco Village?
Mini Vrindavan near Mumbai is around 2-4 hour trip depending on from which place in mumbai you start. Mumbai is well connected by Air,Road and Trains.
Once you are in Mumbai, you have two options to reach Govardhan Eco Village , also populary known as ISKCON Wada.
Mini Vrindavan By Car:
You can drive to Govardhan Eco Village either in your own vehicle or hire an Ola/Uber/any other cab service. It will take you around 2hr to reach here once you reach Vasai Bridge near Bhayander-Thane road.
Note: Do download the offline map as you may not find signal while on the way to mini vrindavan.
Mini Vrindavan By Public Transport (Train And Road):
You can also reach ISKCON Mini Vrindavan (chota vrindavan) by taking a local train in Western line and getting down at Palghar railway station.
You can either take a direct local (Dahanu bound) and get down at Palghar or you can reach Virar and take a shuttle train between Virar and Dahanu Road.
How to reach govardhan eco village from palghar station?
Once you get down at Palghar, go towards west and ask for ST bus depot that is on the north side. It is around 7-10 min walk or you can take an auto as well from the Palghar West railway station.
You need to board Palghar-Hamrapur-Kalyan ST bus.
Note: Clearly tell them you need to go to ST stop from where you will get bus to Govardhan Eco Village. Seems there are two bus depot at Palghar, you need to go to the one on the north side (Dahanu side). Saying only ISKCON temple will further add to the confusion as there is an ISKCON temple near Palghar station itself.
So best thing to get directions is from any show owner (auto guy may try to take you for a ride!)
There is a direct bus from Palghar West ST depot to Eco Village at 730 AM (Palghar-Hamrapur-Kalyan ST bus). This is the only direct bus at the time of writing this post.
In order to get this bus, you will have to take the first Dahanu bound local that starts from churchgate around 5am (do check M-indicator for exact time) and will drop you at Palghar at around 640am.
In case you miss this bus, don't worry, you can get any ST bus or auto till Manor village and from there you can get an auto till Mini Vrindavan.
While returning, the same direct bus will reach Govardhan Eco Village gate aroud 2-230pm else you can get an auto till Manor village and take an ST or auto till Palghar.
Note: If you are dependent on public transport, plan to leave by 430-5pm as you will not get any auto or bus after that.
Mini Vrindavan Wada Entry Fee
Entry to Govardhan Eco Village,wada (Palghar) is totally free. You can visit between 4:30am to 7:30pm and take darshan at the two temples, enjoy prasad. There is a break between 1230PM to 430PM when temple will be closed but you can visit vrindavan.
Govardhan Eco Village One Day Trip Price
There are two options available, if you want just one day visit- its free. Fee is charged only in case you opt for staying there and charges are towards the accomodation.
Note: You get access to many other places as well in case you opt for night stay.
The day trip visitors can take darshan at the Radha Vrindavan Bihari Temple and Sri Sri Radha Madan Mohan Temple. For those who reigster for the free guided tour(Guided tour, scan app), they will be given the Mini Vrindavan tour that includes all the places related to Lord Krishna's life. This will take around 1-1.5hr and end with aarati at Radha-Krishna kund.
Govardhan Eco Village Package
For those who have booked their stay, check in starts at 12PM. At the time of checkin, you will be given a band (that needs to be worn all the time) and wifi password.
The visitors booking there stay can access some additional places that are not open for day visitors. It includes:
GoShala tour: Here you can feed and scrub the cows. Its an experience in itself.
Video show and Orientation at Satsang bhavan: The video show takes you to the journey of Govardhan Eco Village establishment of ISKCON, work done by the Eco village.
Spiritual Guided Tour Of Vrindavan Garden: This is same as for day visitors who have registered.
Aarti at Radha Kund
Yamuna Aarti
Braj Geet Sangeet
Shayan Kirtan at Sri Sri Radha Vrindavanehari Temple
Apart from these, you will get access to Kids play zone, swimming pool, animal shelters.
Govardhan Eco Village Package Cost
You can book for stay at Govardhan Eco Village by visiting their website or book with using this link on GoIbiBo (enter property name as Govardhan Retreat Center to get discount!
Note: September to March is the peak time, so better do online booking in advance.
Check In time is 12PM, anyone arriving before that will have to wait. Check out time is 10AM and 2hr is needed for cleaning so don't presurize person managing the checkin to hand over keys!
There are many stay options available in the Eco Village (both AC and Non-AC). Each room has WiFi and cost is from Rs.1500 to Rs.5000/- per day (may vary during peak season) :
| | |
| --- | --- |
| Mahavan Cottage | AC room,Twin seperate beds, attached bathroom, Electric Tea Kettel |
| Gokul Cottage | Non AC room,Twin seperate beds, attached bathroom |
| Vrindavan Cottage | AC room,Twin seperate beds, attached bathroom, Electric Tea Kettel |
| Madhuvan Tent | AC room,Twin seperate beds, attached bathroom,Electric Tea Kettel |
Govardhan Eco Village Room Rates:
The room rates vary, during peak time the rates increase. Its advisable to book well in advance. You can book directly on their website or check GoIbiBo enter property name as Govardhan Retreat Center to get discount!
Pro Tip: You can save few hundred rupees while booking on Goibibo.
Food Options At Govardhan EcoVillage WADA
ISKCON's commitment is that to not have any hungary person around its premises. The ECO village Wada have provision of both paid and free prasad (food).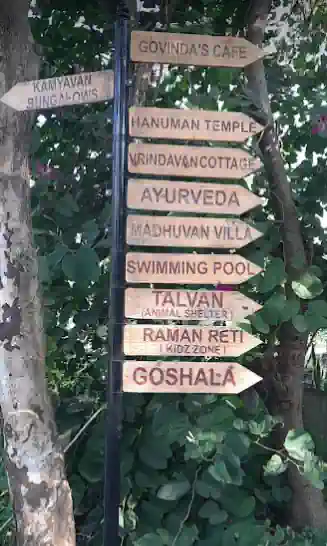 Free khichdi Prasad available starting 9am near the temple. During lunch time (around 12) there is free unlimited prasad available that includes Rice, Dal, Chapati(limited), one vegetable.
After having the prasad, devotees wash their plates at the wash area with the soap and scrub available there.
There are two paid options available, one is Govinda Cafe that is accesible to the people who have opted to stay and other is Sri Giriraj cafe that is near the temple and available for all.
They have thali options, sandwich, chaat options in their menu.
Note: Sandwich and other items are available after 10am only, so be prepared if you arrive early. You will get Khichidi prasad only before 10am.
How to move around in ISKCON Eco Village?
Only the people who have booked stay are allowed to use the battery car. Day visitors need to move around on foot as no personal vehicle is allowed beyond parking.
Govardhan Eco Village FAQ's:
Who is the founder of Govardhan Eco Village?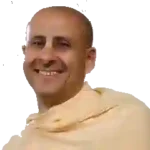 His Holyness Radhanath Swami Maharaj is the founder of Govardhan Eco Village. It was built in the year 2003 but has been undergoing continious development by adding various facilities.
How many acres is Govardhan Eco Village?
Govardhan Eco Village is spread across 90 acers and there are plans to expand it further.
Which station is near to Govardhan Ecovillage?
Palghar station & Boisar (local train stop) in WR is nearest to Govardhan Eco Village. You need to get Dahanu bound local from any fast local stop in WR or get shuttle from Virar. Do check mIndicator for train timings.
Conclusion:
Govardhan Eco Village is a very peaceful place. It attracts not only ISKCON devotees but casual tourists as well due to the peace and religious vibes people get from this place.
This place is highely recommended. You can plan to visit in day trip itself (its free) but if you stay there, you will get access to some amazing experience.
Related Posts: