You may also like to visit above recommended places
Make your Shirdi, ShaniShingnapur darshan enjoyable and scam free.
Almost everyone who visit Shirdi, also visit Shani Shingnapur which is around 70km (approx 2 hours) from Shirdi.
I also followed the same, once I was done with Saibaba darshan, I went to Shani Shingnapur with my family using public transport.
Keep on reading if you are interested to find details of Shirdi shani Shingnapur trip…
You will also enjoy reading about Best Itinerary for Shirdi Trip
Table of Contents
Shani Shingnapur
This is a religious place for Hindus and it has a temple of Lord Shani, the god of justice as per Hindu mythology. This temple does not have any walls or roof or any idol. There is a rock which people offer prayers to.
People of this village believe that lord Shani will protect their house, hence they do not have doors!! If a few who have doors to keep animals at bay, do not lock the doors.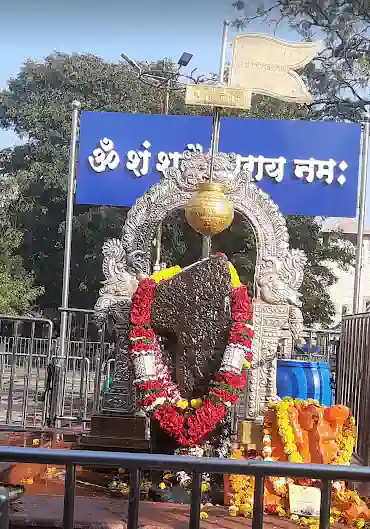 Apply for Best free Credit card that offer Free Railway & Airport Lounge Access :
How To Reach Shani Shingnapur From Shirdi?
There are many options to reach Shani Shignapur from shirdi. You can go by your own vehicle or Government bus or private mini bus.
I will recommend the private mini bus (Traveler) as its always available and they charge Rs.200 per person for the round trip.
Note: The mini bus guys will not start till the bus is full i.e 21 guys in the mini bus. This may take a while to fill if you are visiting at non peak days, so adjust your schedule accordingly or you can take a private AC car that will cost around Rs.3000/- for round trip.
There is another option of travelling in a Jeep but that looked very cramped to me so I did not try it out.
The bus/car guy will drop you at parking lot and will ask you to leave your footwear, belts in the vehicle as these are not allowed in the temple. (wallet and mobile are allowed here).
You can keep the shoes on if you are not comfortable walking barefoot. You can deposit it at the free shoe counter just outside the temple. Do note, during peak days the shoe counters may have long queue, so decide accordingly.
The Parking lot has many shops selling offerings for Lord ShaniDev like Til Oil, til and salt packet, coconut, one black cloth doll like thingy.
Beware!! they will charge you a lot of money for it, read details in the fraud section below.
The Shani temple is walkable distance from the parking, just follow the sign board or follow the crowd.
Should we visit Shirdi first or Shani Shingnapur?
I will suggest you visit Shani Shingnapur in day light. So If you reach Shirdi at time where there is huge crowd (Thursday or weekend) , it will makes sense to visit Shani Shingnapur first. You can stand/sit in Sai Baba queue without bothering about what time of day it is.
How much time it takes for Darshan at Shani Shingnapur?
I visited the temple on Wednesday afternoon and it hardly took me 5-7minute but if you are visiting on Saturday or Thursday, Sunday you can expect long queue around it.
For darshan, just walk past the entrance, you can offer oil and coconut just outside the temple. Oil needs to be poured in a channel that pumps it to ShaniDev idol.
There is a barricade around the ShaniDev idot (a black stone), general public is not allowed to enter the barricade but if you have connections, you will be allowed to enter the area and offer the oil directly to the idol.
Note: Unlike many other Hindu temples, You will not get back coconut that you offered.
Shani Shingnapur New Temple
The work is in full swing for a new temple. Authorities are planning to make it at par with Shirdi to promote tourism. This looks like a huge temple and once completed will definitely uplift the area.
Devotees will be able to spend more time at ShaniShignapur with this new temple.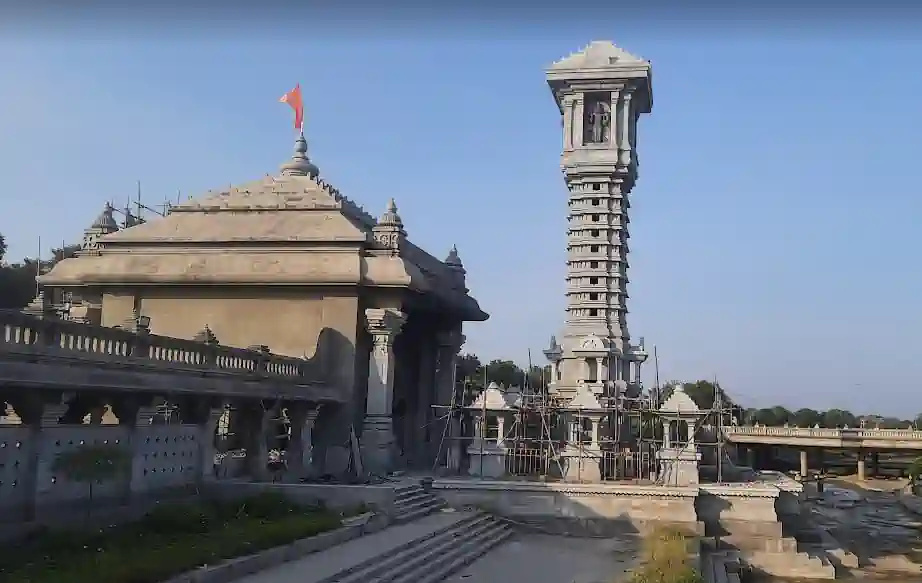 Road to Shani Shingnapur
The road from Shirdi to Shingnapur is quite decent. You will find a rough patch in between where the road becomes two way, apart from that its pretty ok to drive.
Do stop at the cane juice shop along the road. You will enjoy the process of juice extraction where a bull power is being used to rotate the juicer! Its Rs.20/ per glass.
There are few rope swings that you can enjoy while Juice is being prepared.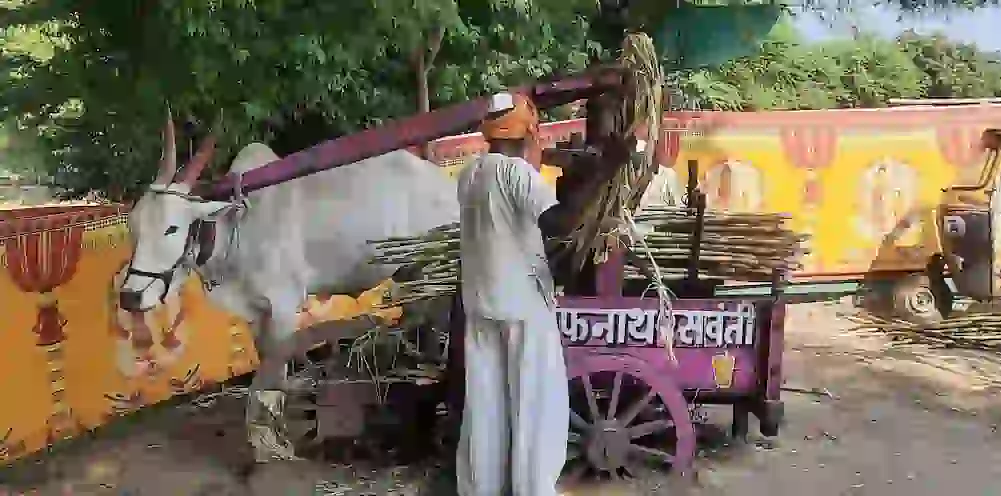 Shani Shingnapur Frauds
Beware of people/shopkeepers approaching you asking you to keep your footwear at their shop or providing parking in Rs.20/- only. They will force you to buy offerings and will charge you Rs.500/- for stuff that you could get for Rs.10 while on your way to temple.
Note: There is a footwear stand near the temple where you can deposit your foot wears for free. Also, vehicle parking is just Rs.20. you can par there on your own, no need to follow the person to the parking lot.
If they insist, tell them you come here frequently and know how things work here. They will leave you alone.
What is allowed in Shani Temple?
In the temple, you can carry your mobile, camera, Oil, coconut (for offering)
You will have to remove your leather items before entering the temple area, keep it in the vehicle or deposit it along with the footwear.
Best time to visit Shani Shingnapur
During summer, visiting the temple around 5pm will be very pleasant. During winters, any time is good. Keep in mind it can get bit cold there during evenings.
Do note that Saturdays are considered as Shani Dev\'s day, so more crowed is expected on that day. Apart from that. since Thursday is pias day for Sai devotees, many of them also visit Shani Dev temple on Thursday.
So if you are not a crowd loving person, plan to avoid these days.
Where To Stay In Shani Shingnapur?
Apart from the Shani Temple, there is hardly anything to see in Shingnapur, so most of the people do not stay there. They book their stay at Shirdi and travel to Shingnapur.
For some reason if you decide to stay there, you will find Shani Trust board accommodation just behind the parking lot (opposite temple).
You can also find cheap and decent private hotels around the place, check out the link
Places to stay in ShaniShingnapur
Food Options In Shani Shingnapur
There are few small stalls and eating places near the temple. You can find decent food there.
FAQ:
How to travel from Shirdi to Shani shingnapur by train?
You can take a train from Shirdi station to Rahuri station. The frequency is limited. From Rahuri, you can take a taxi to Shani Temple, it will cost around Rs.200/-
How To Travel from Shirdi to Shani Shingnapur by Government bus?
You can get State Transport (ST) bus from Shirdi bus stop to Shani Shingnapur but the frequency is very less. Better take the private Traveler (mini bus), they will charge you Rs.200/- for round trip and have very good frequency.
Can we cover Shirdi and Shani Shingnapur in one day?
Yes, infact most of the devotees do the same. They reach Shirdi early in the morning and after Saibaba darshan, take the mini bus to Shani Shingnapur.
Is Darshan allowed in Shani Shingnapur?
Yes, Darshan is allowed in Shani Shingnapur. It is an open temple and you can either stand in queue or take darshan from a distance.
Is phone allowed in Shani Shingnapur?
Yes, Phone is allowed in Shani Shingnapur. Only leather items like wallet, belt, shoes etc are not allowed
Which oil is used in Shani Shingnapur?
Til (sesame seed) oil is offered to Shani Dev.
Why are ladies not allowed in Shani Shingnapur?
Now ladies are also allowed for prayer and darshan in Shani Shingnapur.
Can we touch Shani Dev?
Shani Dev idol in Shani Shingnapur is kept in an enclosed but open area. Normal public is not allowed to enter that area, hence they cannot touch. But I did see few people were entering the area, I guess if you have connection you can manage to enter the area and touch Shani dev,
Conclusion:
The return trip to Shani Shingnapur will take around 4-5 hours. Just take care not to get trapped by the shopkeepers and you will feel satisfied after completing the darshan.