How to get the best out of Haridwar Rishikesh trip?
Haridwar and Rishikesh are well known places for both religious and adventure groups. These places are located in the Uttrakahnd state, in India.
If you are planning to go on this tour, keep on reading on how to get the best out of this trip.
Table of Contents
I visited Haridwar first and then went to Rishikesh, you can do the other way as well.
How to reach Haridwar
Haridwar is well connected by Air, Train and Road. You can take any route to arrive at Haridwar.
Haridwar by Flight
The nearest airport to Haridwar is Jolly Grannt airport at Dehradun. It is around 37km from Haridwar. From the airport, you can get cab or bus till Haridwar.
IGI airport in Delhi is the nearest International airport, you can book a car or travel by bus to Haridwar as well.
Haridwar by Train
Haridwar is well connected by Trains from major city of India, especially Delhi.
Haridwar by Road
The road connectivity with Haridwar is also good. There are many bus service available from Delhi, Chandigarh and nearby cities.
From Delhi, you will get bus from Kashmiri gate bus stop.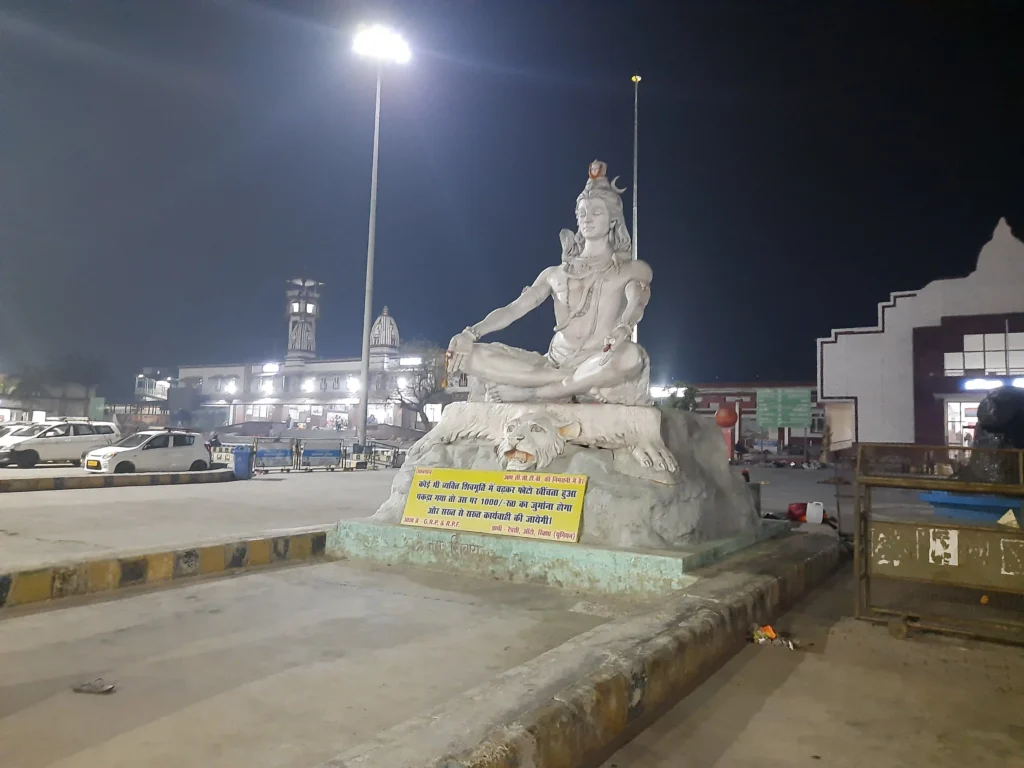 Where to stay at Haridwar?
You will find many budget hotels at Haridwar around the railway station. You can walk-in or do Online booking. Do remember that branded stay like OYO may have hotels bit far from the railway station.
Railway Retiring Room at Haridwar
You can book a bed in IRCTC retiring room at Haridwar if you arrived using train. All you need is PNR number or Ticket number (in caes of unreserved ticket). Visit the Ticket Collector office on platform number 1, if you have not done Online booking.
TC will book a bed for you for Rs.150/- valid for 24 hrs (from morning 8am to next morning 8am). It has common washroom.
Stay at dharmshala
You can also search for dharmshala near station or HarKiPaudi and get a bed or room. Do note that if you are solo traveler, you may not get a room or bed in dharmshala.
Where to eat at Haridwar?
You will find many small shops selling food items. You can try anyone. Do note that this is a religious place, do not expect non veg food or liquor here.
Places to visit in Haridwar
Haridwar is famous for religious places and you should definetly target visiting following places:
HarKiPaudi
You should visit Hari Ki Paudi for a dip in the river Ganga and also for the evening aarti. Try to be at Brahmkund for a good view of aarti.
The aarti happens twice, once at morning 6am and other at evening 6am.
Even if you arrived at Haridwar early in morning 3-4am, you can freshen up and take a walk from station to HarKiPaudi.
It is very safe and is a good 30-40 minute walk.
Carry your cloths to change into for bathing in river. There are hawkers selling shots and towel for cheap, you can buy it from them.
Note: There are changing rooms build by administrators for changing cloths.
Mansa Devi Temple
Next, you can visit Mansa Devi and Chandi Mata temples, there are options to use ropeway or you can trek.
While on your way from HarKiPaude, keep an eye for a big gate that is the way for Rope way.
Note: Try to reach here as early as possible (7-8am is good) else it gets croweded.
Better take a combined ticket of Mansa Devi and Chandi Devi temple, it will cost your around Rs.400/-. From Mansadevi, you will get vehicle to Chandi Devi in this same ticket. This ticket is valid for 3days.
After visiting Mansa Devi, you will be brought back to the starting point of ropeway and guard will direct you towards Chandi Mata temple route.
Keep an eye for directions, the way to Chandi Devi connecting bus is not very intutive. You will have to climb some stairs in between house to reach the spot.
Better ask the people staying around about the Chandi Devi bus stop.
The bus will take you to Chandi Devi stop. From there you will get on to rope way. This one is bit longer ride and you get an amazing view of Haridwar city.
After visigint Chandi Devi, you can also visit Hanuman temple nearby before returing using roapway.
Note: The route to Rope way ticket is different than the trek route.
There are many other temples around Haridwar, you can visit them as well.
How To Reach Rishikesh from Haridwar?
Rishikesh is around 240km from Delhi and 30km from Haridwar. Rishikesh have very few trains, so a better way could be to reach Haridwar and take a bus that will cost you less than Rs.100/-
The Government bus stop is just opposit railway station. Ask for Rishikesh bus, frequency is around 30-40min. You can also opt for private auto but they will put lots of people in auto and it will be an uncomfortable ride.
Chances are you will not be staying near the bus stand as all the action is further ahead near Ram Jhula.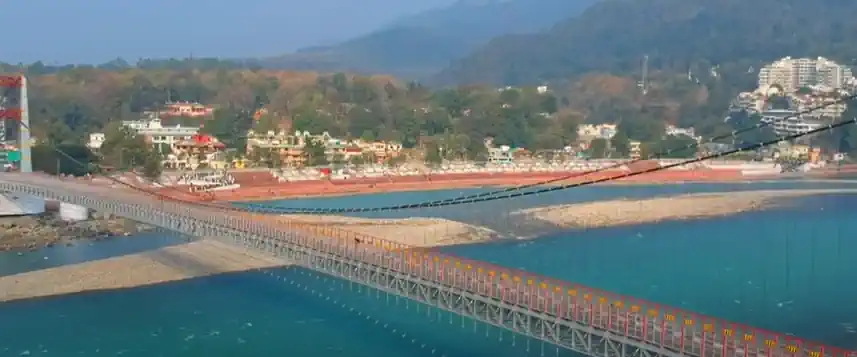 Where to stay at Rishikesh?
Most of the people stay near Ram Jhoola or Laxman Jhoola. If you look at the geography of Rishikesh, it can be broadly divided in two parts- each side of the Jhoola.
One side is motorable road where you will find auto rickshaw, car, scooty but on the other side mostly people walk or use scooty.
You can either do online booking of hotel or just walk in. If you are planning the trip during long weekend, better do online booking of Hotel, use goibibo to et discounts. You can get hotel rooms starting Rs.800/-
Try to book a hotel near Ram or Laxman jhula, this way you will save on your time for visiting places.
Hostel stay is also a good option that will save you money.
Staying at Dharmshala
There are many Dharmshala near the walking side of Ram Jhoola. You need to show your id proof (Aadhar card) and submit a xerox. You can get a room for very cheap (Rs.200-300).
Note: Rooms are not given to Solo travelers/single person at dharmshal. Also, carry xerox copy as getting a photocopier is not easy there.
Where to eat at Rishikesh?
There are many restaurants, small shops selling food items. You can get Momos, chow min, chole bhature, parathas etc there.
Non veg food is not easily available, neither are bar's. If you carry your drink, hotels allow you to consume it in your room (not allowed in dharmshala).
Places to visit at Rishikesh
Rishikesh is famous for its spiritual as well as adventurous trips.
If you want to do river rafting and camping, make sure to book it online as weekends are fully packed. Other days you can actually bargain with the service provider.
Note: You will need one full day for adventure trip.
You can either take a scooty for visiting various spots at Rishikesh. you can get it for around Rs.500/- per day or get taxi for the tour.
Ram Jhula, Laxman Jhula and Janki Jhula are the land marks of Rishikesh. You can sit at the ghat for hours at night and enjoy the calmness and beauty of the river bank.
NeelKant– You can get a taxi that will charge your Rs.150/ for return trip and the whole trip will take around 5-6 hours (Travel+Darshan)
Note: Monday's are very crowded for NeilKanth darshan. Also during Shravan its very crowded.
FAQ:
Can I get Non veg food at Haridwar Rishikesh?
Non veg is not very common in Haridwar. In Rishikesh you may get at some place that is further away from the river.
Can I get beer at Haridwar Rishikesh?
Alcohol is not very common in Haridwar and Rishikesh. If you carry your own bottel, you can consume it in your room.
Conclusion:
The Rishikesh Haridwar trip can easily be done in 2 days, add one more day if you want to induldge in adventure activities as well.
Related Posts:
Also check out Guide To Kedarnath Yatra