You may also like to visit above recommended places
Kedarnath Yatra is a tough one, this post helps you make it more comfortable.
Jai Baba Bholenath….Planning for Kedarnath Yatra/tour? You have reached the perfect post where you will know all the nitty gritties of this 16km trek, Keep on reading….
Kedarnath re-opens on 25th April 2023 and will remain open till November 2023
Table of Contents
What is Kedarnath?
Kedarnath is an important piligrim place for Hindus in India. It is one of the Lord Shiva's Jyotirlings (there are total 12 jyotirlings) and is located in the state of Uttarakhand.
How to reach Kedarnath?
For Kedarnath, You will have to reach Haridwar or Rishikesh. There is good connectivity from Delhi and other states. Dehradun (Jolly Grant) airport is the nearest airport.
Do note that to control crowd, administration has introduced Online Yatra registration. Its free and mandatory.
Note: Kedarnath darshan is allowed only between April to November.
Kedarnath from Haridwar:
If you reach Haridwar by train, you will find the bus stop opposit the railway station. Get a bus from there till Sonpryag or Sitapur. Cost is approx Rs.600 by bus and Its around 8-12hours long journey.
You can stay either at Sonprayg or Sitapur, where cost of each bed is Rs.1000/- for a standard hotel. Online booking is recommended.
Link to GMVN online accomodation booking
You can keep your luggage in cloak room before starting the trek to save on room charges.
Next day, start your travel from Sonprayag to Gauri Kund. You can get Jeep/Bolero for this travel, Rs.50/ to Rs.100/- per seat. Travel will take around 15min.
Note: You will have to get Yatra parchi from Sonprayag. Also be prepared for long queue for getting the jeep.
Kedarnath By Helicopter
You can avail the Heliservice if you want to avoid the long trek. Make sure you book the service on Official website only.
Helicopter service is available from GuptKashi, Sersi and Phata. Book well in advance to get this service.
For a return trip, it will cost your around Rs.8000/-. Anyone weighing more than 80kgs need to pay Rs.150/- extra per kg!!
Note: If weather is not suitable, all the Helicopter services are stopped and you get refund.
Kedarnath trek:
Your trek or journey to Shri Kedarnath starts from GauriKund.
GauriKund: Your trek starts from this point. You can take a bath at this hot water kund and continue. Changing rooms are available around the kund.
You can also take horse (2500/-, Doli/Palki approx Rs.10,000/-
Enjoy the beauty, snow and other natural views as you climb up the stairs.
Note: You will find lots of horse if you are trekking, the route is same so it may annoy you but there is no other option.
Jungle Chatti: After 4km (around 2hrs) You will reach Junglechatti. There are lots of food shops at this place.
Bhimbali: You can take this alternate route, its around 1.5km and is dirt route. Horse take this route, you can also use it.
Rambara: Here you cross the new bridge over River.
After this, the trek becomes bit difficult. You can take horse from this point as well, approx Rs.1.5k
Rudrapoint: Horse will drop you at this point, beyond this point you need to trek.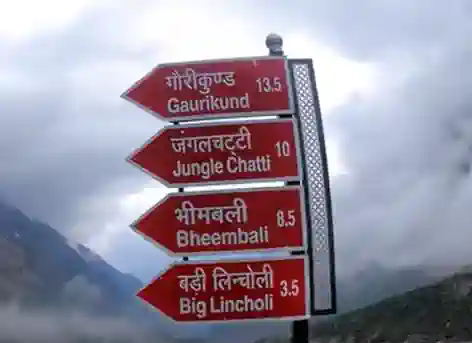 You can stay at Rudrapoint, either in rooms or tent. Tents are dormitory type, each tent has 10 beds, blanket and cost is Rs.400/-. Toilets are common.
Halipad is also at base camp for people using its service from gupt kashi, sirci. The queue for darshan starts from near the halipad. It will cost you around Rs.4700/ for return trip and it will drop you at Rudrapoint in 15min!!
From Rudrapoint, the temple is further 1.5km
You may spend anywhere around 2-5hrs in queue for darshan.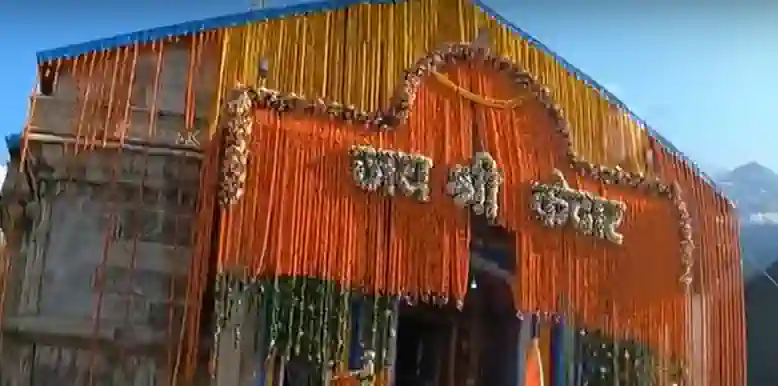 Kedarnath Darshan Timings:
The doors for darshan opens at morning 6am till 3PM. Then the doors close for 2hrs and reopen from 5pm to 9pm.
There will be a long queue for darshan and it may not be very streamlined. You will see people jumping the line.
After spending hours in queue, as you enter temple, you will see Nandi statue. Going further ahead you will see Baba Bholenath (Shivling). Due to the crowd, you will not get more than few seconds and have to move on!
Features of Yatra:
Temporary toilets' at every 1km, you will also find First aid points at regular interval. In case you are not able to walk, you can easily get horse (need to pay).
You will be mesmerized by the natural beauty on the way.
Where To Stay During Kedarnath Yatra?
There are many Hotels, guest house. It is highely recommended to get the booking done online on GMVM(Garwhal Mandal Vikas Nigam ) much in advance.
Dharmshala (place for devotees mostly free or very less charges) near the temple is very costly and you will have to book it months in advance to get a room. No online booking is allowed for this, you need to call or do offline booking.
Best time to visit Kedarnath
Avoid rainy season (July to mid September) and peak season (May June). Best time is around September October, there will be cold but less crowd.
Issues during the Kedarnath Trip:
Mobile Network: Beyond GauriKund, your mobile network will become flakey. Even though there are wi-fi points installed, its not very effective. Network is much better at the top
Toilets: Toilets are not clean, different people have their own way of using toilet and you may end up with stinking experience.
Public Contact/announcement system: You will not find any Government or Kedarnath authority in this route. In case you are separated from your group, best bet is to meet near the Kedarnath temple.
Horses: Horses are both a comfort and hindrance. The route is so narrow, you will have to walk (even brush) with the horse who may shove its tail or answer natures call while on duty!!
Conclusion:
Kedarnath is an very important religious place for Hindu's. The yatra tests your physical and mental strength and once you complete it, it will give you immense satisfaction.
Related Posts:
You will also enjoy reading about Maa VaishnoDevi Yatra