You may also like to visit above places
Nepal is a beautiful and budget friendly place to visit.
Nepal travel is a good budget travel where you can see a new country by spending very less money. Apart from the natures attraction, Nepal attracts tourists with its "Visa On Arrival" policy, Safety, and the low cost of tourism.
Tourists arriving from the US and Europe and most of the other developed countries get more than 50 times the value of the currency of their country in Nepal i.e 1USD=120 Nepalese rupee! and 1INR=1.6 Nepalese Rupee.
Check the cheapest air tickets on Google Flights
Table of Contents
Where is Nepal?
Nepal, the roof of the world, is located in the Indian subcontinent between India and China. The land of Mount Everest is the favorite amongst the trekking community. But there is much more in Nepal than trekking, keep on reading to know more about Nepal Travel.
How To Reach Nepal?
Nepal is well connected by Air and Roads. You can take a flight to Kathmandu International airport or visit by road from India.
In case you are an Indian citizen, you can just show your citizen proof and enter Nepal! You can even use INR in Nepal without converting it.
Note: In case you are taking your vehicle in Nepal, make sure to get a permit for it else your vehicle can be confiscated there.
INR currency notes of Rs.500 and Rs.2000 are not accepted, do carry smaller notes.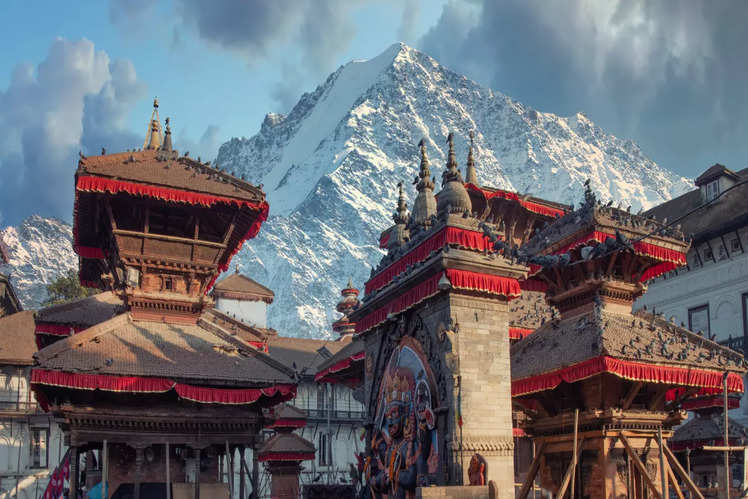 Nepal by Air
Click To Get Huge Discount On Flights!!
You can fly to Nepal from your country, you will land at Tribhuvan International airport. Not a very fancy airport but it does its job.
It may well be among the most picturesque airports due to the natural beauty surrounding it.
Nepal by Train
You can get a train to Gorakhpur (UP) or Raxaul (Bihar) and from there you need to take road transport. These are the nearest railway stations to the Nepal border from India's side.
Nepal by Road
You can arrive in Nepal by road from India either via Gorakhpur: Sonauli (UP) or Raxaul (Bihar) to Birgunj.
From these places, you can get Bus or share a cab or book a full car. Indians can enter Nepal without their immigration but do carry your Voter Id/Passport with you.
In case you Enter by road and plan to return by flight from Nepal to India, make sure to get the entry stamp on your passport else you may face some issues.
👌🏻 Cool Accessories for Bikers 👇🏼
Visa cost for Nepal
Nepal issues three types of visas to tourists:
15 Days cost $30 USD
30 Days will cost you $50 USD
90 Days is $125 USD
It can be extended in case you want to stay longer by visiting the immigration office in Kathmandu or Pokhara. It will cost you $30 USD for 15 days and $2 per day after that.
Note: Indians don't need any visa, if you arrive by air you will just have to fill out an arrival form!
How to get Sim card in Nepal
You can easily get a sim card in Nepal, the documents needed will be:
Passport (Voter Id is also accepted for Indians)
One passsport size photograph
Applicable charges
Interesting facts about Nepal
| | |
| --- | --- |
| Nepal King | Gyanendra Shah |
| Nepal Queen | Komal Rajya Lakshmi Devi Shah |
| Nepal Capital | Kathmandu |
| Nepal Population | 30,225,582 |
| Nepal Language | Nepali, Hindi |
| Nepal Time | GMT+5:45 |
| Nepal International Airport | Tribhuvan International Airport |
| Nepal Dress | Daura & Suruwal |
| Nepal Food | Dal Bhat (Lentils & Steamed rice) |
| Nepal National Animal | Cow |
| Nepal National Bird | Himalayan Monal |
| Nepal Currency | Nepalese rupee |
Documents needed for Nepal Travel
Valid Passport (at least 6monts validity)
Passport size photographs
Visa (on arrival)
Do bring in some USD or INR as your debit/credit cards may not work in Nepal
Things to Carry for Nepal Travel
Due to geographical and cultural differences, a few things that may seem pretty obvious to Western Travellers may be very different in the Indian Subcontinent.
For example, in these countries toilet papers are not very common, they use water to clean after they are done.
Shower in the Bathroom may not be available at cheap places, they use mugs and buckets for bathing.
Medical & Travel insurance
Toilet Papers
Your basic medications including mosquito repellant cream, loose motion pills, vomit control pills
Electric adaptors/round to flat converters
Power bank
Tourist spots in Nepal
Kathmandu
Tamal
Himalayas
An interesting fact about Nepal: It does not have Trains!!
Best time for Nepal Trip
The months after monsoon i.e October to December are the best months as monsoon has just got over and nature is at its best.
Also, the winter has just started so it's not extremely cold.
Note: Avoid June-August as its monsoon time (unless you like rains)
Nepal Night Life Scam
Beware of the nightlife scam where locals will lure you into shady places and will force you to spend all your money.
Conclusion:
Nepal Trip should be in your list if you want to visit a country without spending too much money. You will definetly enjoy the nature, weather and culture of Nepal.
Related Post:
Keep on reading more travel related posts on HBTravel