You may also like to visit above places
How to get best out of Bhutan trip in a budget?
Bhutan is located amidst the Himalayan range and is a small country with a border with China and India. It opened its border in the year 1974 that gave a big boost to Bhutan Tourism Industry.
The Chinese side border is sealed and you cannot enter from China, so the best way for your Bhutan Travel is via India.
Table of Contents
Interesting Facts about Bhutan
1. Bhutan is the first country in the world that has a negative carbon footprint, the second being Suriname.
2. It is the only country that has Happiness Quationt instead of GDP as a measure of its growth.
3. It is around 94th position in the world in the Happiness Index.
| | |
| --- | --- |
| Bhutan King | Jigme Khesar Namgyel Wangchuck |
| Bhutan Queen | Jetsun Pema |
| Bhutan Capital | Thimphu |
| Bhutan Population | 780,000 |
| Bhutan Language | Dzonkgkha, Hindi |
| Bhutan Time | GMT+6 |
| Bhutan International Airport | Paro |
| Bhutan Dress | Kira |
| Bhutan Food | Non-Veg food is more prevalent in Bhutan |
| Bhutan National Animal | Takin |
| Bhutan National Bird | Raven |
| Bhutan Currency | Bhutanese Ngultrum |
Bhutan Tourism: Documents needed
1. You can either bring your Passport or any document that proves your Nationality. A passport is recommended.
2 . Bring photocopies (Xerox) of the first and last page of your passport
3 . Passport size color photos carry at least 4-5 even though only 1 is needed for permit.
4 . Permit/Visa: Citizens of India, Bangladesh, Maldives can visit the permit office in Phuentsholing on Mondays to Fridays, 9am to 5pm (documents accepted only till 2 pm), and get permits on arrivals.
All others will have to get Visa beforehand. Visa cost is $40 USD
5. Your itinerary of the stay in Bhutan.
6. For visiting places other than Thimpu & Paro, you will need to get a different permit in Thimpu.
7. Solo travelers will have to give an undertaking that in case of any mishap, Bhutan Government will not be responsible.
8. Kids below the age of 18 need a birth certificate in English.
9. Hotel confirmation (hard copy)
To get a permit, your fingerprints and photographs will be taken. After that, you will get a permit stamped on your passport, or in case of non-passport, you will get a printed permit.
Cost of Travel to Bhutan
For citizens of India, Bangladesh, Maldives a daily tax of Rs.1200 per day per person will be levied under SDF(Sustainable Development Fees).
Apart from this, they can either travel by public transport or cab and book a hotel/Hostel/Homestay as per their convenience. The hotel should be TCB (Tourism Council Of Bhutan) certified and should minimum be a 3star hotel. This may cost you approx Rs.2100/- per day.
A guide is now mandatory, charges are Rs.1500/ to Rs.2000/- per day.You will have to pay 1 day extra that will cover Guide's travel time and expenses.
In case you bring in your 4 wheeler, charges are Rs.4500/- per day!
On top of this, a travel insurance is mandatory which is charged at Rs.600 per person.
For other county citizens, they will be charged $250 which will include a 3-star hotel, all meals, a Local Guide, road transport, tax.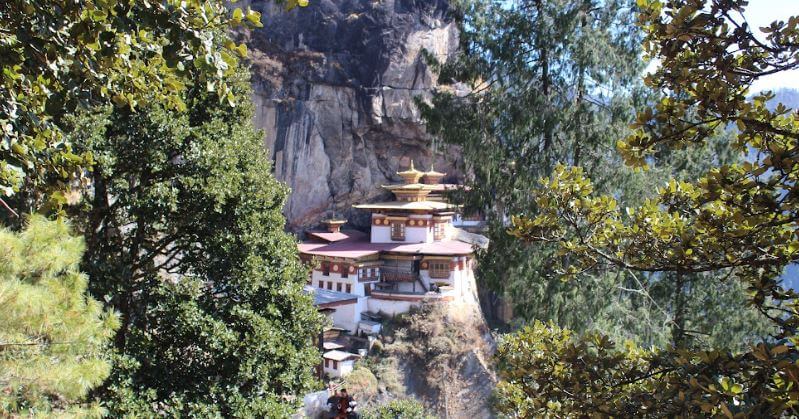 Bhutan currency
Bhutanese Ngultrum is the name of the currency used in Bhutan. The value of Bhutan currency is the same as Indian Rupees. You can get the currency exchanged or use INR (below Rs.500). Make sure you carry enough cases, cards may not be accepted in most places. In fact, in almost all the cards, there is a disclaimer that it's not valid in Bhutan & Nepal.
How To Reach Bhutan
You can reach Bhutan by Air, Train, and Road. Depending on your budget and inclination, you can select anyone.
Note: If you are from any non-south Asian county, you will have to pay $250 per day, it includes your stay, food, land transportation, and local guide.
Bhutan by Air
Bhutan has only one international airport in its city of Paro. This airport is one of the most difficult airports in the world, so much so that only 8 piolets are qualified to operate here!!
No wonder there is limited air connectivity to this airport. In fact, anyone who wants to arrive by air has to use the service of one of the two airlines- Drukair and Bhutan Airlines!
You can board these flights only from India (Mumbai, Delhi, Kolkata: Bagdogra) or Nepal (Kathmandu), or Thailand (Bangkok).
Click To Get Huge Discount On Flights!!
Bhutan by Train
You will have to get down at Hasimara station. Not all the trains halt there so you will have to get a train from Kolkata/Siliguri/New Jalpaiguri.
From Hasimara to Phuentsholing, you will have to take a cab to Jaigaon, it is the nearest Indian territory.
From Hasimara to Jaigaon, you can take a private cab (Rs.500/-), and then you will have to take a Bhutanese cab to enter Phuentsholing.
A better option will be to look for a Bhutanese cab at Hasimara itself (the driver will be wearing a Bhutanese dress- Kira), it will take you to Phuentshilong for around Rs.200/ and you can use his service in Bhutan as well.
Sharing auto is also available for Rs.50/- per person.
👌🏻 Cool Accessories for Bikers 👇🏼
Bhutan by Bus
You can take The Royal Bhutanis Government Bus from the Kolkata bus terminal. These buses operate only on Tuesday, Thursday, and Saturday at 7 pm. Bus tickets cost Rs.650/- per person. The return bus is Monday, Wednesday and Friday.
Time of travel is around 24hrs, Bus booking is Online.
You can take a bus from Siliguri as well, the bus journey is around 6hrs and ticket cost is Rs.180/-
Phuentshilong to Thimphu by bus: Rs.200 per person.
Points to remember while visiting Bhutan
It's a hill area, you may feel like throwing up while traveling as the car/bus goes in circles, so do carry anti-vomit medicins or keep something in your mouth (toffee, elaichi etc)
Depending on where you are traveling, you may face some problems due to cold, so carry a nasal spray to keep your breathing smooth.
As the height increases, the air gets thinner making it difficult to breathe. You will also get tired easily.
Things to Carry for Bhutan Travel
Due to geographical and cultural differences, a few things that may seem pretty obvious to Western Travellers may be very different in the Indian Subcontinent.
For example, in these countries toilet papers are not very common, they use water to clean it after they are done.
Shower in the Bathroom may not be available at cheap places, they use mugs and buckets for bathing.
Medical & Travel insurance
Toilet Papers
Your basic medications including mosquito repellant cream, loose motion pills, vomit control pills
Electric adaptors/round to flat converters
Power bank
Tourist Places to Visit in Bhutan
Thimphu is the capital city, this should definitely be on your list. Once in Thimphu, Thimphu Palace, Temple, and Golden Buddha are the most visited places.
Paro: this is the second biggest city of Bhutan & International airport is located here.
Note: For visiting any other place, you will have to get a separate permit at Thimphu.
Conclusion:
Bhutan is a beautiful country, very little pollution and an abundance of natural beauty. You can book your trip using any travel booking site like Make My Trip or Go Ibibo or Kesari Travels.
Hope this guide on Bhutan Travel was helpful.
Related Posts
Complete Guide To Nepal Travel
Also, check out Bhutan Govt Travel Website
Which is the International Airport in Bhutan?
International Airport is at Paro in Bhutan.
How to reach Bhutan?
You can reach Bhutan Via Air, Train and Road from India.
Will Indian Sim card work in Bhutan?
Indian sim have some coverage only in the indian adjecent city of Bhutan, otherwise you will have to buy a Bhutanees sim.