You may also like to visit above places
How to get most out of Rajasthan Trip?
Visiting India's western part will be incomplete without visiting the royal state of Rajasthan. Jaipur Jodhpur Jaisalmer Tour will cover this desert state pretty well.
In this post, I have covered the must visit places in Rajasthan that will help you decide your itinary. Keep reading…
Table of Contents
You can start your trip from anyone of these places. Make sure to book your stay online if visiting during peak time. I personally do all my travel booking using goibibo, it gives great discounts as compared to other Online booking platforms.
Jaipur:
The world famous Pink city is one of the most visited places in Rajasthan.
How To Visit Jaipur?
Jaipur is well connected with all the major cities of India. You can reach here by Train, Air or by road.
Sightseeing in Jaipur
You can hire a scooty in Jaipur and visit the city at your own pace. This can be booked online as well.
Places to visit in Jaipur
Following are the must see places in Jaipur:
Hava Mahal: You can visit this place between 9AM to 5PM, entry fee is Rs.50/-. It is also accessible via metro.
Amer Fort: It opens at 8AM and close at 5pm. Entry fee is Rs.100/-
Jaigarh Fort: Visiting hours is from 9AM to 5PM and entry ticket is Rs.70/-
Nahargarh Fort: Visiting hours 9AM to 5PM and entry ticket is Rs.50/-
Jal Mahal: You can view this from outside, and there is no ticket for this.
Surya Mandir: No entry fee
Modi Dungri Mandir: This is Ganpati Temple, no entry fee
Albert Hall Museum: This is very photogenic place, plan to visit during evening. Entry ticket is Rs.40/-
Jantar Mantar: This famous place has many scientific instruments, entry fee is Rs.50/- To get most of this place, hire a guide. It will cost you Rs.200/- for a group of 4.
City Palace: The beautiful palace, entry fee is Rs.200/- for morning and Rs.500/- for evening.
Akshardham Temple: No fee
Tip: You can buy Jaipur Composite Ticket, it will cost you Rs.300/- and it is valid on 8 most visited tourist spots. Students get this for Rs.40/- only.
Where to stay in Jaipur?
You will find decent and affordable hotels near railway station. Book using goibibo and get great discounts
Jodhpur
This is the blue city of Rajasthan (all the houses are coloured in blue as they are devotees of Lord Shiva). Like other cities of Rajasthan, Jodhpur has its historic value.
Places To Visit In Jodhpur
You can either book a private Jodhpur darshan or roam aroun by yourself. You should definetly try visiting following attractions while in Jodhpur:
Walk In Old City:
The real essence of any city comes out while walking on the streest and local markets. You will definetly remember the narrow streets filled with blue houses, the local market. Do not forget to taste the local delicacies like Misi Vada (Chilli Vada-prepared in a very different way).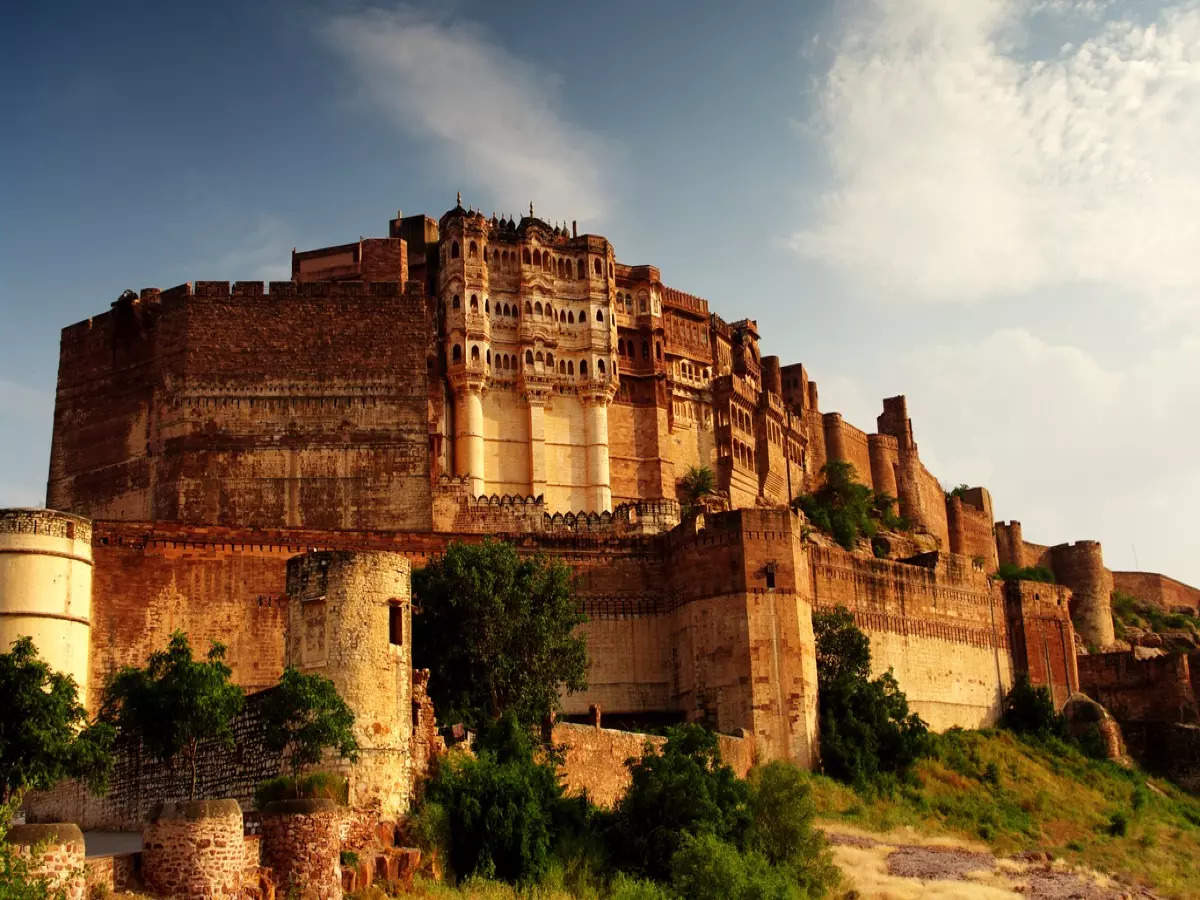 Mehrangarh Fort:
Do visit to see the splendour of the city from the fort top and also feel history of Jodhpur.
Jaswant Thada:
This marbel structure is built as a tribute to the unknown soldiers who laid down their lives for Jodhpur. This is just adjecent to the Mehrangarh fort.
Umaid Bhavan Palace:
This beautiful palace has now been converted into Hotel. This gives a glimps of the Rolay family life style.
Ghanta Ghar:
The clock tower is also a landmark of Jodhpur and will make a great social media pic!
Jaisalmer
Jaisalmer is famous for it beautiful desert and the world famous Jaisalmer Fort. You will just love the beautiful mansions, havelies.
Places To Visit In Jaisalmer
Jaisalmer fort
Gadisar lake
Patwa Haveli
Do not miss the desert safari and the vibrant local market.
Conclusion:
Rajasthan, the desert state, has a rich cultur and famous for its princely grandeur.
Related Posts:
For more interesting travel related posts, do read HBTravel