Remove the anxiety from train booking
Trains are the best and most comfortable mode of the journey if one of the parameters used is the cost involved. To travel on a train, you need to have a train ticket between your onboarding station and destination station.
In this post, you will know about:
| | | |
| --- | --- | --- |
| Un-reserved train ticket booking | How to get Long distance, inter-city, short distance train tickets online | UTS App |
| Railway platform tickets | How to get a Platform ticket online | UTS App |
| Local train tickets and pass | How to book local train passes and tickets for Mumbai, Pune, Chennai, and other cities | UTS App |
| Reserved train tickets | Where to book reserved tickets | IRCTC website or App. |
Note: Good News, Unreserved Ticket Booking Online has started again. Now you don't have to stand in a queue to book your Unreserved Tickets!
Using UTS App, you can book Express, Intercity, Mail, Local train- any tickets online.
Read for Mumbai, Pune Local Train Online Pass, and Tickets
Table of Contents
What is a Train Ticket?
A train ticket is a legal document that authorizes you to travel on a particular train between two places. You need to buy it and the cost of tickets depends on the class of travel, the distance between the two points and the time of booking.
There are two types of tickets,
IRCTC Branded SBI Card: Get discounts on all your railway bookings along with free railway, airporr lounge access!!
What is an Unreserved Train Tickets?
If you have traveled in Train, you will be aware that a ticket is needed to board the train. These tickets authorize you to travel in train but do not guarantee any seat. If you are early, you can grab a seat else you will have to make other arrangements.
You can buy unreserved train tickets either from the counter at the railway station or Online using the UTS app.
Usually, there are two compartments that are earmarked for Un-reserved tickets, One in the start of the train and the other at the end.
What are Reserved Train Tickets?
You can get a reserved ticket either from the Reservation center counter or via the IRCTC website. In this ticket, a seat/berth is reserved for you. The train compartments are also earmarked for these and anyone not having a valid reserved ticket cannot travel in these compartments.
Other types of unreserved tickets related to Trains:
You may have heard of the following tickets as well:
Platform Tickets: These are the ticket you will need if you are at the railway platform either to receive or drop any traveler. If you are found on a railway platform without a valid train ticket or Platform ticket, a fine will be imposed on you.
Local train Tickets: These tickets are valid only for suburban trains. also known as Local trains. These trains are very popular in cities like Mumbai, Chennai, etc.
How to book Train Tickets?
You can book train tickets either Online or Offline. To book online, you will need to log in to the IRCTC website for reserved tickets or for un-reserved tickets, you will have to download UTS App.
For Offline booking, you can get it from your nearest railway station during working time. In case of reserved tickets, you will have to fill in a form and wait in queue.
In case of unreserved, just stand in queue and get the tickets from the counter after paying the amount.
IRCTC Branded SBI Card: Get discounts on all your railway bookings along with free railway, airporr lounge access!!
How to book unreserved tickets Online?
To book unreserved tickets online, you need need to have
1.UTA Mobile app on your mobile.
Do read Step By Step Guide To Download UTS App and Create an Account.
2 . Book the ticket
Open the app and Click on Normal booking. You can book local train as well as long-distance (Express, Mail) train tickets, and platform tickets using this app.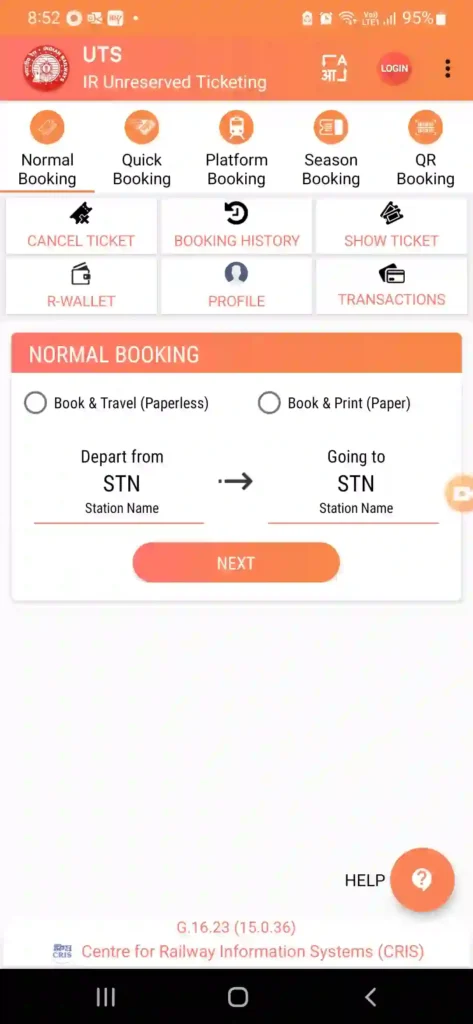 Note: You need to be in the range of 200m to 2km from the railway station to book the ticket. If you are standing on the platform, you will not be able to book this online ticket! You need to be at least 200m away from the railway platform.
3. Pay using UPI or Wallet Or Other Online Methods
You can either pay using R-wallet or any other method including Netbanking, GPay, PayTM, UPI, etc
4. Produce the ticket when asked for
You can access this ticket from your mobile under \"Booked Tickets\". This ticket will be available even if there is no internet connection.
Online Unreserved Train Ticket FAQ\'s:
1. Can I book unreserved tickets on the IRCTC website?
No, the IRCTC app or website is only for reserved tickets. In case you have a waiting list and the ticket is not confirmed by the time chart is prepared, your ticket automatically gets canceled.
For Unreserved tickets, you need to book on UTS app.
2. Has Unreserved train ticket booking started?
Yes, now you can get an unreserved ticket either from the station or online. Now a days IRCTC is not allowing to reserved the General bogie tickets (this was the scenario during Covid)
3. What happens If I am not able to produce an online booked tickets due to mobile problems?
If any problem happens to your mobile (discharged/lost/damaged etc) and you are not able to produce a ticket when the checking staff asks for it, you will be considered a ticketless traveler and have to pay the fine.
Conclusion:
It's very convenient to book unreserved tickets online. It saves a lot of time.
Related Posts:
Do read more interesting posts on HBTravel