Kedarkantha: Who should not attempt this trek?
Are you a trekking enthusiast and looking for good treking spots? Kedarkantha trek will definetly intrest you. Keep reading for details…
Table of Contents
What is Kedarkantha?
Kedarkantha is one of the mountain in the Himalaya range of mountains, its located in Uttarkashi in the state of Uttrakhand.
Kedarkantha, famous for its winter trekking (December to March). You can go on this trek in other seasons as well, just avoid rainy season. It is a mid difficulty level trek that any beginner can also undertake. If you can cover 4km in 30min, you can attempt this trek.
KedarKantha Trek:How to reach KedarKantha?
To reach Kedarkantha, you can arrive at Dehradun. Dehradun is well connected by Air,Train and Bus.
From Dehradun, you will get a bus to Sankari village (6AM to 8AM only). This is very near to Dehradun railway station. The 8hr travel will cost you around Rs.400/- covering a distance of approx.185km.
You can also take a taxi, but it will be costly.
Once you reach Sankari village, you will have to take permission and a guide(its mandatory). The hotel you are staying will be able to provide guide and guide will take care of permission. He will need your aadhar card for that and Rs.150/- -per person.Rs.50/- will be charged extra if you are carrying tent.
Guide will charge you around Rs.1000/ per day for the trek. The permission is valid only for 3 days, you cannot extend it beyond that.
Trek Itinerary
The image below gives a bird's eye view of the trek. Details are given below.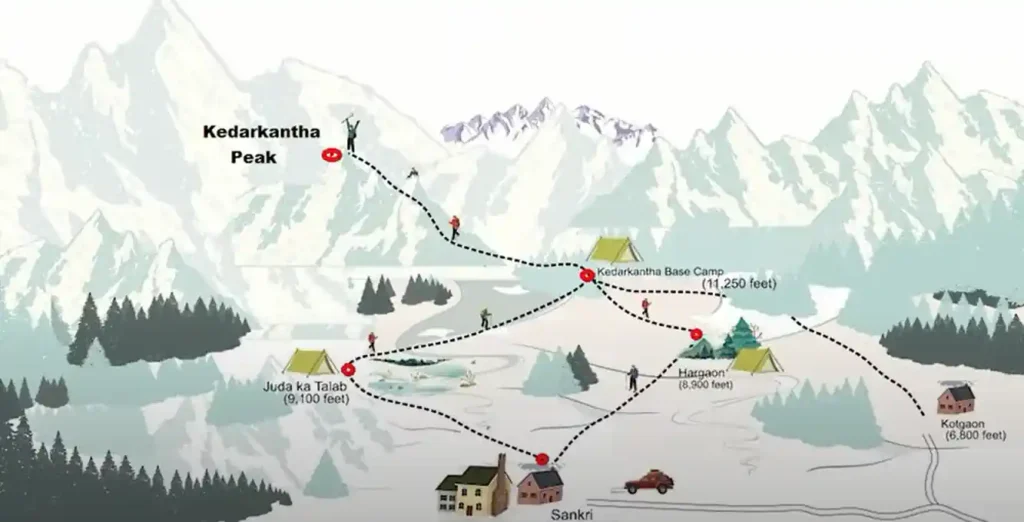 Day1: The trek starts at 6AM from Sankri to Juda Ka Talab. It is a 4km trek You can either stay here for night or move ahead to Kedankantha base camp that is 6km from this point.
You can get a tent at Juda Ka Talab for Rs.500/- per person.
Day2: Assuming you moved ahead to Kedarkantha base camp, start the steep trek to Kedarkantha. Its just 3km trek but will take around 5hrs due to its terrain.
Some start the trek around 2am so that they can catch a glimpse of the beautiful sunrise.
After completing the summit you can start your return journey and stay at Hargaon.
Day3: You trek till Sakri and from there you can take a transport to your respective location.
Conclusion:
You can either use this post as reference and plan you travel or get a package tour. You can also plan it during non winter where you will find greenery at the lower areas but snow as you gain altitude.
Related Post:
Guide To Frozen Zanskar River Chadar Trek