Uttarkashi Uttarakhand Trip In A Budget, stay@Rs150 per night!
Table of Contents
Where is Uttarkashi?
Uttarkashi is in Uttrakhand, India. It is located on top of a mountain in Himalaya range and is around 1100 m above sea level. It is well connected by Road.
Uttarkashi Weather
The weather is pretty plesant in Uttarkashi, all round the year. It may get bit hot during summer afternoons, other wise mornings and evenigns are pretty cold.
The weather graph below shows the year around temperature at Uttarkashi.
What is Uttarkashi famous for?
Uttarkashi is an important religious place for Hindus. Thousands of devotees visit this place to offer prayer to Lord Shiva.
Apart from the Kashi Vishwanath temple, people have to come here on the way to Gangotir, Gomukh.
How to reach Uttarkashi Uttarakhand?
Since Uttarkashi is on a hill, the only way to arrive here is by road. You can arrive till Rishikesh or Haridwar using Train or flight, but from Rishikesh you will have to take road transport.
Uttarkashi from Rishikesh
The last bus from Rishikesh to Uttarkashi is 1230PM from private bus stand. The Government bus is bus is arond 3am!

Uttarkashi bus time table
There are Government buses and Private buses starting from Uttarkashi. Government bus start pretty early in the morning from Uttarkashi (between 530am to 7am), private bus are good option as it has more frequency and run till 4pm.
Note: There is no seperate Government bus stand, the bus start from Birla Dharmshala gate.
Check the image below for Uttarkashi bus stand time table (Private bus), timings may change as per peak season.
Hotels in Uttarkashi
There are options for all kind of budget in Uttarkashi. You can get cheap hotel rooms as well as luxury rooms. Make sure to do online booking during peak season. In non peak season, you can walk in and get a room.
You can find decent low budget hotels near Bus stand itself.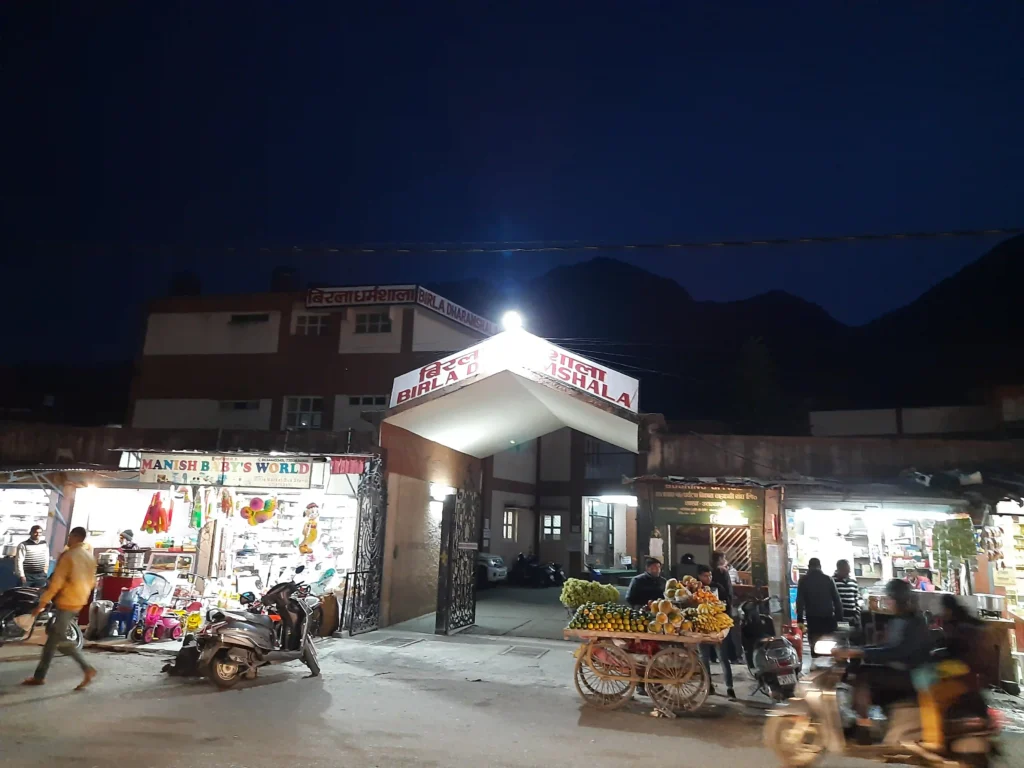 Dharmshala stay at Uttarkashi
The Birla Dharmshala is just oppoist the bus stop. You can stay there in dormatory or book a room. You can get a VIP room as well for Rs.1000/- only
Dormatory will have 8 beds. Washroom is common for all dormatory. Cost is Rs.150/- per night.
Normal room will cost you Rs.500/- and VIP room will cost Rs.1000/-
Note: Carry your Aadhar card for booking. Also carry your lock.
I advise also keep a bedsheet as you may find the sheets provided by dharmshala not very clean.
Food options at Uttarkashi
You will get all kind of Veg food in uttarkashi. There are many stalls and shops selling food. Food price is average as any other place in India.
You will find non-veg food as well as liquor at a street near bus stop (opposit directeion road from Mall road)
Places To Visit In Uttarkashi
Uttarkashi is a religious place and you will be impressed by the beauty of the nature as you move bit away from the town.
Following are the places to visit in Uttarkashi:
Uttarkashi Vishwanath Lord Shiva Temple
This is an ancient temple and have a lot of history. This is walkable distance from the Bus depot.
In the same premise, Maa Shakti temple is there. The whole history of the temple is also written on a board inside.
Nehru Institute Of Mountaineering (NIM)
The famous mountaineering institute is located around 3km from the Roadways. You can trek to the top, you may ask for lift from vehicles going in that direction.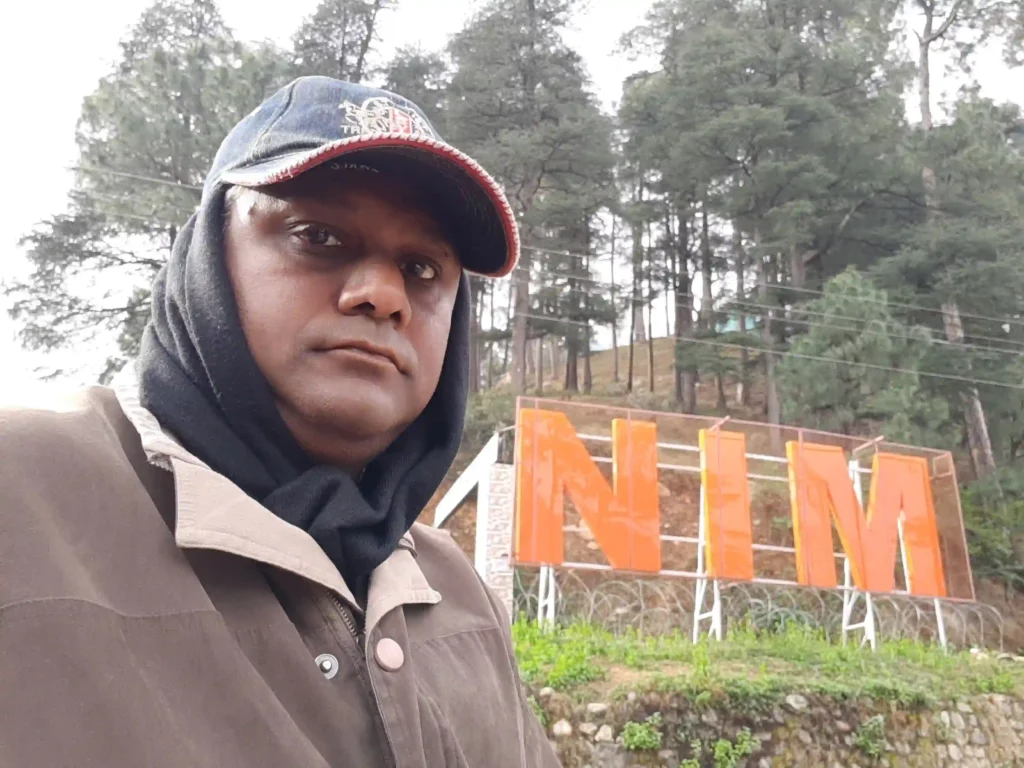 Harshil & Dharali Village
These villages are further up in the mountain and weather is pretty cold. You will be mesmerized by the beauty and simplicity of these villages. The water of river flowing through this village is very clean.
During non-peak season, you will feel that you own the whole place as no tourist is around!!
There are lots of hotels here in the range of Rs.800-2000/-. Need less to say during peak season rates increase. During non peak season, you can bargin for a room in Rs.500/-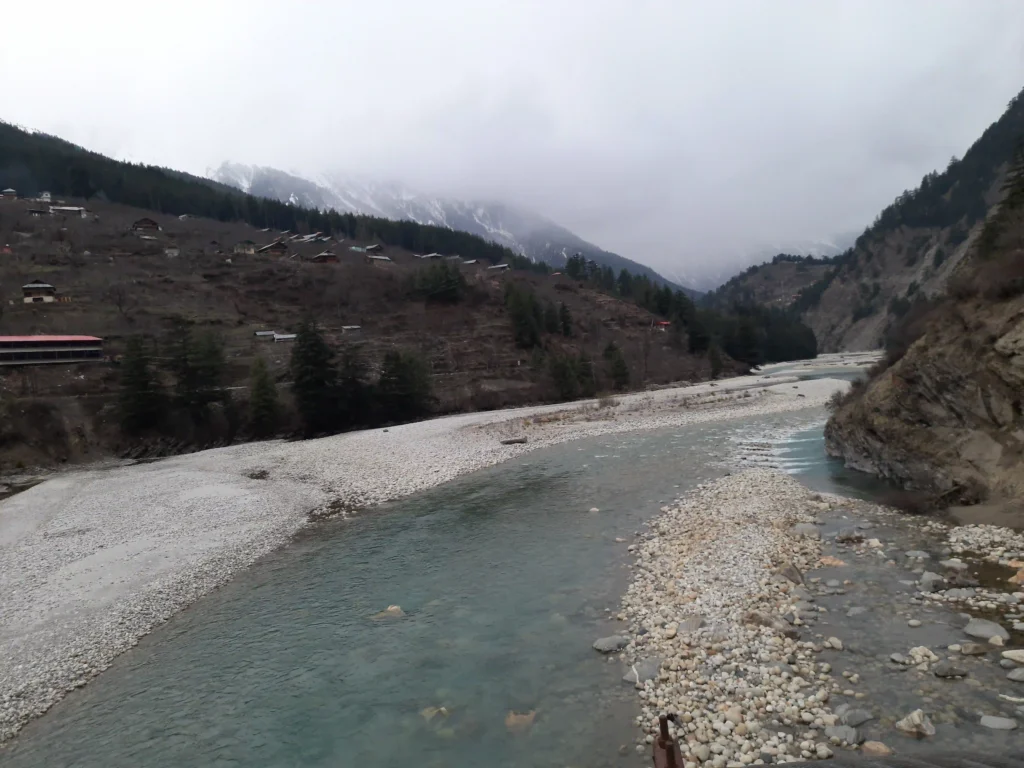 To reach here, you will have to reach at Taxi (Scorpio/Xylo) stand (it is further ahead of bus stop). Check out the taxi timing below.
Note: This is private taxi, so it will start only after the vehicle is full (10-13 people in Scorpio)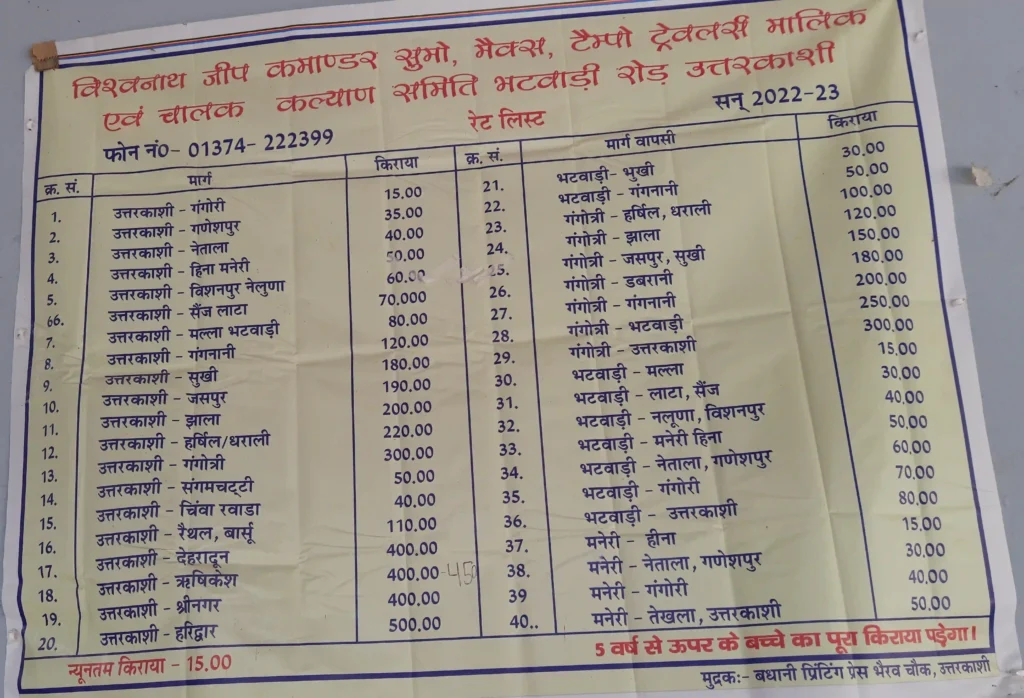 Gangotri
Uttarkashi to Gangotri is around 100 km and will take around 5hrs.
To reach Gangotri, you will have to go via Uttarkashi and Dharali village. This place have goddess Ganga temple. This is very near to the origin of River Ganga that is named Bhagirathi here.
You will get taxi service from Uttarkashi during seasosn time else you will have to reach Harshil or Dharali and get a taxi (difficult to get during off season).
You can ask the hotel to arrange for a bike ride, it will cost you around Rs.1000/-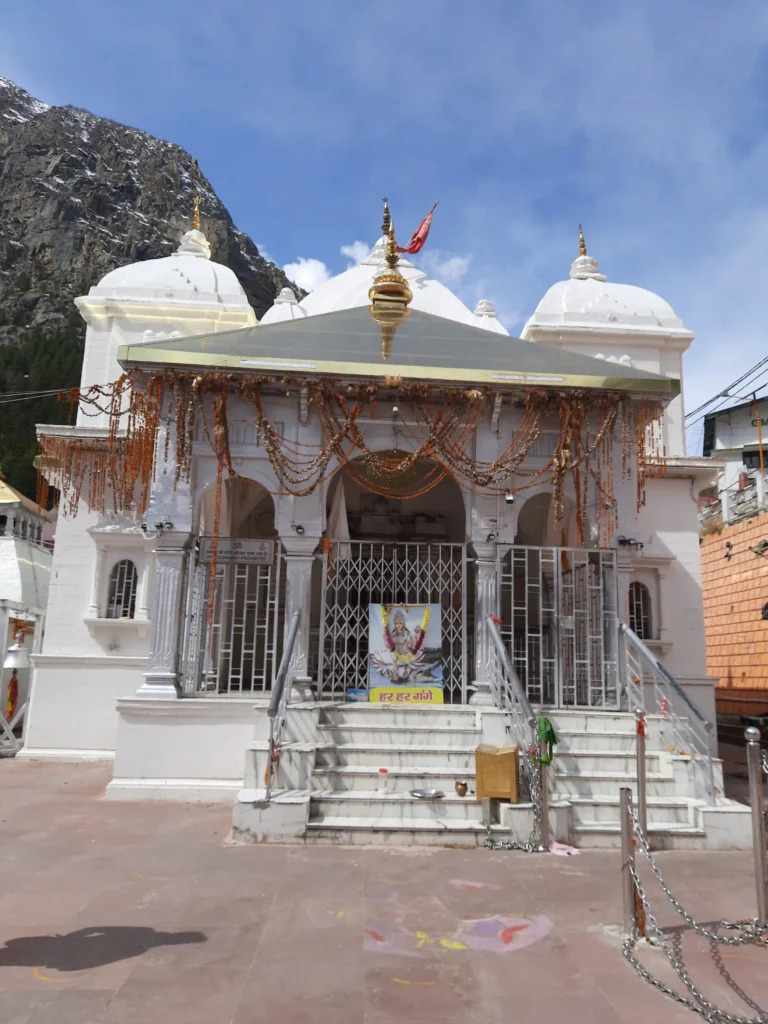 Conclusion:
Rishikesh is a beautiful place and you can get bus to various parts of Uttrakhand from this place.
Uttarkashi is the base for many beautiful places like Gangotri, Harshil, Dharali and is well connected by road to all major cities in Uttrakhand like Dehradun and Haridwar.