Tapkeshwar Mahadev Temple & other places to visit in Dehradun
Visiting Dehradun and looking for places for sightseeing? 

You have reached the right place, In this post I have shared my budget trip experience to Dehradun where I visited Tapkeshwar Mandir, Robbers cave and many other places in and around Dehradun.

Keep reading for details...
Table of Contents
Where is Tapkeshwar Mahadev Mandir Dehradun located?
The famous and must place temple of Lord Shiva, Tapkeshwar Mandir is located near Dehradun city in Uttrakhand.
How to reach Tapkeshwar Mahadev Mandir?
To reach this temple, you can either hire an auto or get a bus from near Pared Ground.
Bus will cost you Rs.15/- per person and this bus may get croweded.
Bus will drop you at a point on the main road and from there you can get another bus or take an auto or walk.
From that point, you will have to walk for almost 45min to visit the temple. enjoying the bunglows of ex-army personnels in the area.
Do not miss this temple, this is a beautiful place and the darshan is a mini adventure in itself where you will go through caves. Its just 3-4 minute inside the cave but I loved the experience. Its like entering Vaishno Devi cave during old times!
Other option is to take full auto as sharing auto's were not available.
Tapkeshwar Temple Timings
Tapkeshwar Mandir Dehradun timings: opens at 7am and the evening aarti is at 730pm.
Its best to visit the temple around 7pm so that you get to attend the 730pm aarti. You can click photos as well.
Tapkeshwar temple history
It is belived that before Mahabharat, Guru Dronacharya prayed here and lord Shiva appeared to bless him.
Many years later, Guru Dronacharya's son Ashwathma stood on one leg and prayed Lord Shiva to appear. Here he was blessed with continious flow of milk in the temple which turned into water as Kalyug arrived.
Places to visit in Dehradun
Apart from Tapkeshwar temple, you can visit other places that can be divide in two parts:
Local city tour
Outside city tour
Dehradun city tour
Following are intresting places to visit in Dehradun
1. Robbers cave (Gucchu Pani):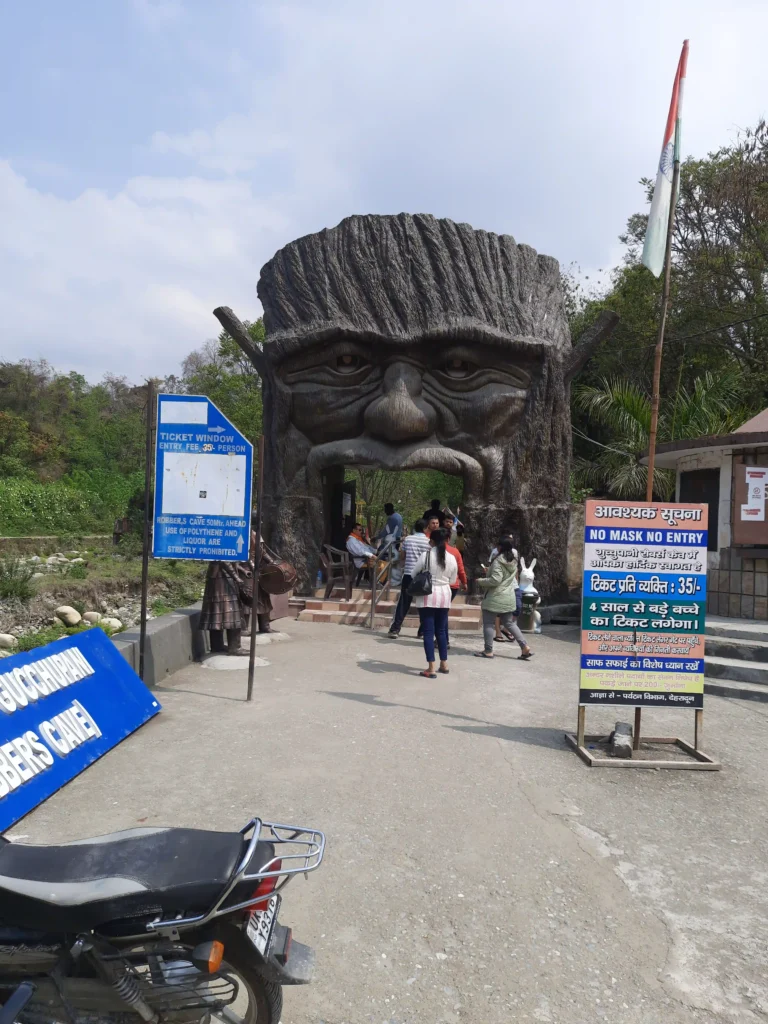 This is a natural cave with a strem flowing through it, giving it that movie effect where robbers hide after their loot!
To reach here, you can either hire an auto or get a bus from near Pared Ground. It will cost you Rs.20/- and the bus will drop you at the entrance.
From there you will have to walk down around 20-30 minute to reach the entrance. Entry is Rs.35/- per person. You can also rent slippers here so as not to wet your shoes. It will cost you Rs.10/- per pair.
Note: I entered the water bare foot, a few stones did poke my feet but it was manageable.
Doon school & IMA
If intrested, you can visit the famous Doon school and Indian Military Academy if you wish.
Masoori Trip
Masoori is called the Queen of tourist places. You can either take a bus from outside Dehradun railway station (it will be pretty croweded during weekends).
Other option is to take a taxi tour to this beautiful hill station.
How to reach Dehradun?
Dehradun is well connected by Air, Train and road to rest of India. You can select any mode and visit this capital city of Devbhoomi Uttrakhand.
Dehradun by Flight
To reach Dehradun by air, you need to take a flight to Jolly Grant airport. From the airport you can take a cab to the capital city.
You can also land at IGI airport, Delhi and visit Dehradun by road.
Dehradun by Train
Dehradun is a major railway station and you will find trains from all the major cities. In case you do not find a train from your city, arrive at Delhi. Delhi has many daily trains for Dehradun.
The train station is in the main city itself, depending on where you want to visit you can check vehicle options.
Dehradun by Road
You can drive your own vehicle or arrive at Delhi via Flight or train. From Delhi ISBT at Kashmiri gate, you can get many AC and normal bus to Dehradun.
You can also hire intercity Ola/Uber from Delhi. It will cost you around Rs.5000/-
FAQ:
How much time takes to visit Tapkeshwar Mahadev Mandir?
You will reach the temple in 30-40min, once in you will not feel like leaving even after 2hrs. So keep around 3hr as a ballpark figure as time needed to visit Tapkeshwar temple.
Conclusion:
Dehradun is not exactly hill station but weather is pretty plesant in the city.
Related Posts:
You will also enjoy reading following posts: