Nainital Trip: It can't get cheaper!
Nainital is an attractive tourist destination in Uttrakhand, India.
The weather is cool and soothing making it best place for year long tourism.The icing is that its pretty budget friendly to travel to this beautiful place.
Keep reading for details on budget Nainital Tourism...
Table of Contents
Where is Nainital?
Nainital is among the most visited hill station in north part of India. It is located in the state of Uttrakhand in the Kumaon region.
Nainital Weather
Nainital is at an elevation of approx.2000 m from sea level. The weather in Nainital is pretty plesant all round the year. Temprature keeps on hovering between 14-24 degree C.
The infographic below shows the year round temprature of Nainital. It can be taken as reference and the temprature hovers around this.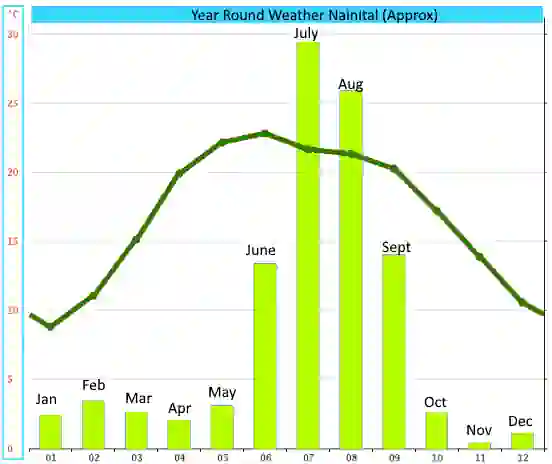 How to reach Nainital?
Nainital is on a mountain, the best and only way to reach here is by road. However, you can reduce your road journey and make it a mix of Air, Train and Road.
Nainital by Flight
The nearest domestic airport to Nainital is PantNagar airport. It is around 65km from Nainital but presently there are very limited flights to this airport.
The next best airport is IGI airport at Delhi. Once you land in Delhi, you can hire a cab/taxi or bus till Nainital. Details in section below.
Nainital by Train
The nearest train station to Nainital is Kathgodam. From here you can hire taxi or get a bus.
In case you are looking for budget and cofortable journey, get down at Haldwani instead of Kathgoday. Haldwani have a Government and Private Road ways stop and you are in a better postion to get a seat from Haldwani than Kathgodam.
Details of road journey in section below.
Nainital by Bus
Once you reach Haldwani station, the Road ways stop is around 10-15min walking distance. First you will see private bus lined up (better avoid them as they do not have fix time of departure and may stop at any point to pickup travelers).
At Uttrakhand Roadways bus depot, you will find bus till Naintal at regular interval and ticket will coust your around Rs70-100/-
Delhi To Nainital in Rs.200/- only!
I travelled from Delhi station to Haldwani by train. I could not get reservation so travelled in general compartment, ticket cost was Rs.120 that I bought online using UTS App
Pro Tip:
Reach station 1hr before the train departure time to get seat in general coach!
I took (UTR Samprk Krti) train from Delhi that starts at 4PM and got down at Haldwani at around 1030PM. Unlike Kathgodam, Haldwani does not have railway retiring room so I approached the AC seating lounge and spoke with the person at counter. He allowed me to sleep on bence, Rs.10/- per hour.
I got up around 5am, got freshened up and started towards Haldwani Road Ways stop. One local person advised me to avoid Private bus as there is no fix time when it will start.
From there I went took a but going towards Ranikhet as I wanted to visit Kaichi Dham first but you can get a bus to Nainital at regular interval and it will cost you around Rs.70-100/-
Nainital Hotels: Where to stay in Nainital?
You will find hotels starting Rs.1000. In case you are solo traveler, you can also get hostel or dharamshala at pretty cheap rate.
Staying at mall road will reduce your travel time but increase cost. Anyhow, Nainital is pretty small place and you just have to walk around 10-15min even if you get your budget room away from mall road.
Pro Tip For Staying in Dharamshala:
Carry your own bed sheet (preferable double) as you may find the sheets provided there not very clean!
Nainital Tourism: Nainital visiting places
Naini lake and its boat ride is the most famous activity, but there are many other places you should visit while in Nainital.
There are cab and bike taxi (if you are alone) that will charge your around Rs.1000/- per person and show you 11 tourist points. Its around 3-4hr ride.
I took the bike taxi and it was an amazing ride. The riders are expert and the way to these attractions are no less than roller coster ride!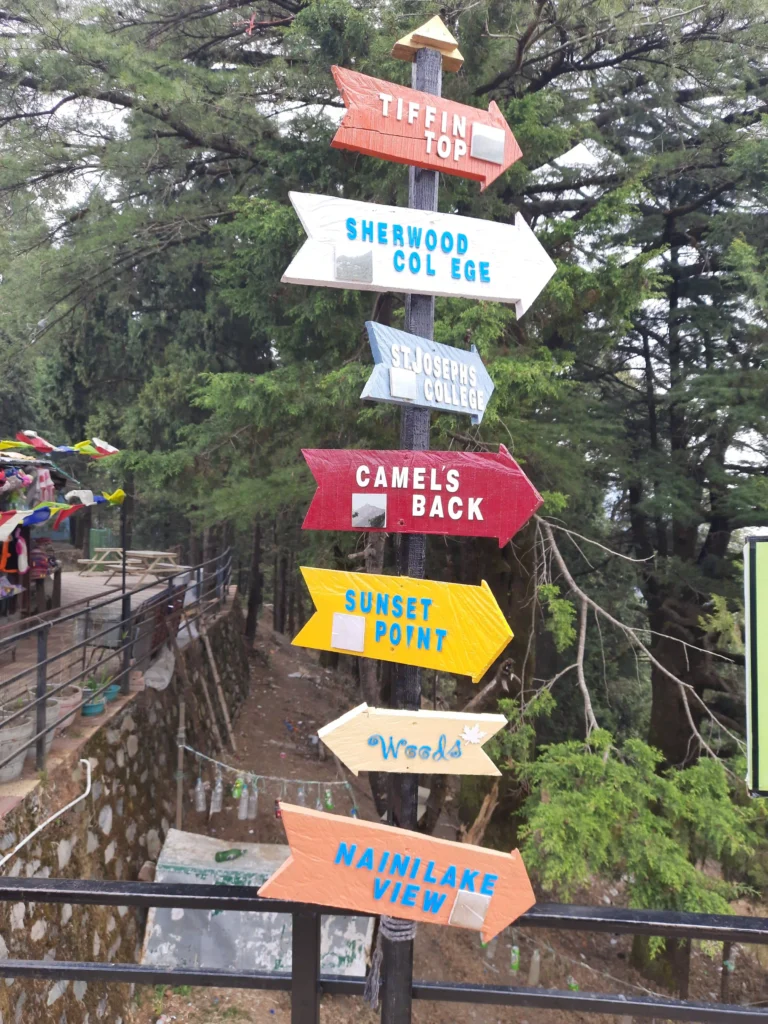 Mall road walk
This may well be the most amazing walk you may have taken. Just stroll around, sitting near lake if you feel bit tired.
Naini lake boat ride:
You may have done boar ride at other places but a boar ride at Naini lake is just amazing, do not miss it. You will have to pay around Rs.300/-
Naina Devi Temple
This is located near the Naini lake and is a toursit attraction both in terms of religious and natural beauty.
Gurudwara
Do not miss paying your respect at Gurudwara adjecent to Naina Devi Temple
Nainital zoo
If you like, you can visit the zoo. Just keep in mind, there is apoint on Mall road from where you will get vehicle pretty cheap to zoo else others will charge you more money.
Places to eat in Nainital
You will find m any restaurants on the mall road but they are bit costly. Instead, you can walk towards Mallital (this is further ahead of Naini temple). Here you will find good and cheaper options.
Nainital Bus stop
The new Nainital bus stop (Roadways stop) is at Tallital (this is at the other end of Mallital or the Naini lake). You will find bus connectivity along with private cab service towards Haldwani/Kathgodam from this place.
FAQ:
Is Haldwani better than Kathgodam to reach Nainital?
Yes, Haldwani has Government and private bus depots. Bus service start from this points. You will get a seat from here. From Kathgodam, you will have to take a share taxi or reserve full cab. Chances of getting a seat in bus from Kathgodam is very less.
Where is Government Bus stop in Nainital?
The new bus stop catering to Government bus is not moved to Tallital, it is at one end of Naini lake.
Conclusion:
Nainital is a beautiful place and its proximity from Delhi makes it an excellent weekend trip for people staying in NCR region.
People from other parts of India can also easily come to Nainital, anytime round the year. Just avoid Monsoon as mountains are pretty unpredictive during rains.
Relates Post: