Cheapest way to travel from Nainital To Haridwar
Recently I travelled from Nainital to Haridwar in just Rs.200! Intrested in knowing details, keep reading...
Table of Contents
As a slolo traveler, I took up this journey to cover Uttrakhand in a budget. After visiting Kaichi Dham and Nainital, my next in list was Haridwar.
I had the option of traveling by bus or train, I planned on taking this part of journey via train
Where is Nainital?
Nainital is a beautiful hill station in Uttrakhand, India. It is situted on top of a hill. It is well connected by Road.
Where is Haridwar?
Haridwar is a religious place in the state of Uttrakhand. It is at the bank of river Ganga and is well connected by Train, Road.
How to travel from Haridwar to Nainital?
You can either opt to travel by road or train from Nainital to Haridwar
Nainital to Haridwar Train
From Nainital, there is no direct train. In fact there is no train at all from Ninital as it being on top of the hill.
So first you will have to take a bus from Nainital Roadways (Tallital) to Haldwani or Kathgodam depending on which station your train starts.
The bus journey from Nainital to Haldwani/Kathgodam will cost you around Rs.75/- (I took the ticket till Kathgodam as I was not aware train will start from Haldwani, I spent another Rs.20 in auto to reach Haldwani from Kathgodam). Total journey time of approx.2hrs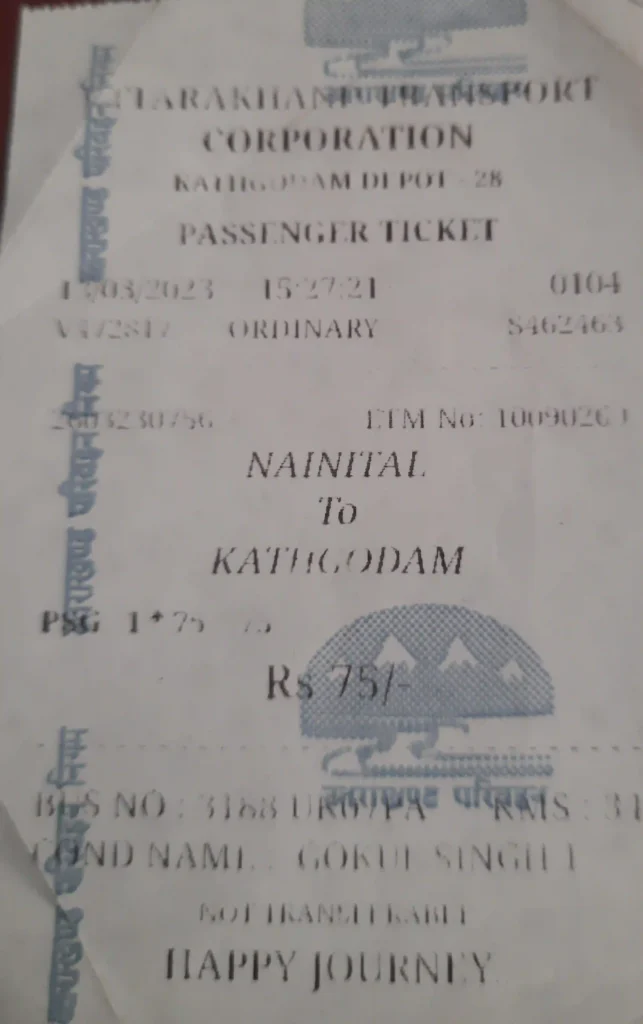 The reason I say Haldwani/Kathgodam because the train (Kathgodam Dehradun Express) starts from Kathgodam on Wed-Sat and rest of the days it starts from Haldwani!!- Railways are doing their best to keep passengers on their toes 😁
I could not get a confirmed ticket to Haridwar, so I took a general ticket and reached station 1hr in advance to grab a seat in general coach. The ticket cost me Rs.115/- (I took the ticket till Dehradun as I was not sure if I will get down at Haridwar, the ticket to Haridwar may cost 10rs less or same)
The train time is around 8pm and I found General compartment to be open when I reached platform around 630pm. So I grabbed a window seat.
Note: The train got croweded and by the time it started, hence make sure you reach station well before time to grab a seat if you do not have a reservation.
Also, better avoid the single seat, as it gets crowded people will litrally sit on your lap!!
The train reached Haridwar around 3am and lot of people got down.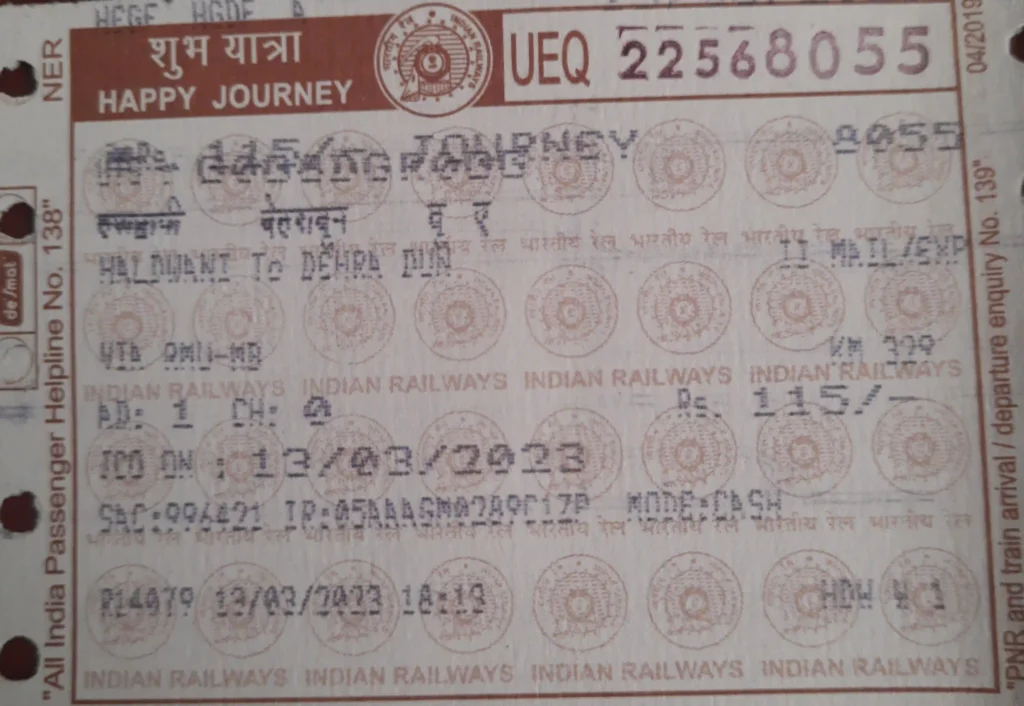 Nainital To Haridwar Bus
A direct bus from Nainital to Haridwar is hard to get. Better come to Haldwani Roadways depot, from there you will get many Government and private bus till Haridwar.
I wanted to freshenup before starting my Haridwar trip, so I paid Rs.30/- in the AC sitting lounge and freshened up. I kept my luggage in the locker provided by the lounge, it cost me Rs.20/- extra for 20 hrs.
Haridwar to Kainchi Dham train
For Haridwar to Neem Karoli Baba ashram, you will have to reach Haldwani or Kathgodam.
You can board DDN KGM Exp Train No.14120 (daily) or DDN Janshtb Exp(12091) and get down at either Haldwani or Kathgodam.
If you want to go by cab (reserved or sharing), Kathgodam will be better option but if you want to take a bus (Government or private) Haldwani will be better option as the Roadways bus depot is at Haldwani.
FAQ:
How far is Nainital from Haridwar?
The distance between Nainital and Haridwar is around 230km. It will take around 6-8hrs of travel time depending on the mode of travel.
Is there a train from Haridwar to Nainital?
There is no train station in Nainital. You will have to get down at Haldwani or Kathgodam station and take a bus/cab till Nainital.
From Haridwar, You can take Dehradun Kathgodam express that starts at midnight and will drop you to Haldwani/Kathgodam in 7hrs.
Conclusion:
There are bus also available from Haldwani Road ways depot, you can opt for that as well. I am more comfortable travling in Train so I took the train even with the un-reserved option.
Related Post:
Read more posts on Uttrakhand travel on HBTravel