Is Coorg trip worth your time?
I visited Coorg from Bangalore when I was visiting my relative in Bangalore. It was a 2-day trip where we covered all the tourist spots in Coorg and on its way between Coorg and Bangalore including Vrindavan Garden at Mysore.
Keep on reading to know my experiences, do's and don't about the Coorg trip.
You may also like to read about One day Nandi Hills Trip
Where is Coorg?
Coorg, also known as Madikeri or Kodagu is a small hill town located in the Southern part of India, in the state of Karnataka. It is famous for its coffee plantations, and scenic views and is a good weekend getaway for people staying in Bangalore or nearby areas.
Planning to visit Coorg? Keep on reading, I have shared my personal experience, places to visit, places to avoid, do\'s, and don'ts …
Table of Contents
How to reach Coorg?
Depending on your origin, there are many options to reach Coorg. Coorg is well connected by road from various cities. There are various Government bus services and private cab services that will take you to Coorg. These services are available from Mysore, Bangalore or Mangalore.
Coorg from Bangalore
Coorg does not have its own airport or railway station. The only way to reach Coorg is by road. There are many private cab drivers or bus tour services. You can also explore the state government bus KSRTC.
I used the service of Mr.Irfan Khan. He has his own cab agency and also drives himself. He is knowledgeable and is very helpful. His cab is clean and you do not need a guide when he is driving.
You can connect with him on 9590507031
Airport Near Coorg
You can fly down to Mangalore airport which is around 160 km from Coorg or you can plan your trip from Bangalore (Kempagauda airport is around 265km from Coorg) via Mysore, covering the beautiful city of Mysore as well.
Nearest railway station to Coorg
Mysore is the nearest railway station for Coorg. It\'s a 3hr drive from Mysore to Coorg.
Coorg Resorts
Get yourself a room for as little as Rs.1000
The hill town is a tourist place and has Resorts, Hotels, and Homestays suitable for all budgets.
There is a whole range of options, right from Resorts that offer full-day activities to homestays where you just hit the bed after roaming around for the whole day.
Following are the luxury Coorg resorts:
Coorg Places to visit
Once in Coorg, you can visit the following places, I have shared my candid review about the places. You may take that as a guideline to decide on visiting or avoiding it:
1. Mandalpatti:
This is a spot at one of the highest points on the hill. The view from this place is awesome, depending on what time of the day you arrive here.
Early mornings are foggy, and afternoons are clear and cool. Evenings get pretty cold here.
To visit Mandalpatti, you have to hire a Jeep. It will take you to the topmost spot from there you need to walk 10min to reach Mandalpatti.
You can take your bike as well, but then you will have to park it 1km before the point and hike the rest of the way.
Taking the car is not advisable as there is a very rocky patch of road and you may end up damaging your car.
The jeep takes Rs.2000/ per jeep and allows 6 people in it. Though I have seen a few jeeps with almost 10 guys in it but that will be a very uncomfortable ride and risky too as some spots are very rocky.
You need to pay Rs.20 for each person at the forest check post.
Apart from the view on top, on the way, you can stop to capture some awesome photographs.
Warning: The route is very bad and I will not recommend it for old people. The ride is bumpy all the way. In my personal opinion, given the hardship to reach Mandalpatti, I will not recommend it to anyone. The view is good but I have been at better places minus the bumpy ride.
2. Coffee Plantation visit:
There is a Government coffee plantation that is open for visitors. Entry is Rs.200 per person and you will get a guide to show you around.
The Guide is very knowledgeable and shares some very interesting facts that we were not aware of. The tour ends with Coffee & Wine tasting (small shots only). There are many wine options and you can buy coffee, wine, and spices grown on the plantation.
The tour did not last more than 30min and shopping can take as much time as you want.
In my opinion, a good place to visit but I thought the entry fee was on the higher side. An Rs.50 entry would have been more apt.
Note: Avoid buying coffee from there, we bought filter coffee for our use but were disappointed with the result. It leaves residual powder instead of completely dissolving it.
Even the spices bought from there were no different from what we get in the market outside.
3. Abbi falls: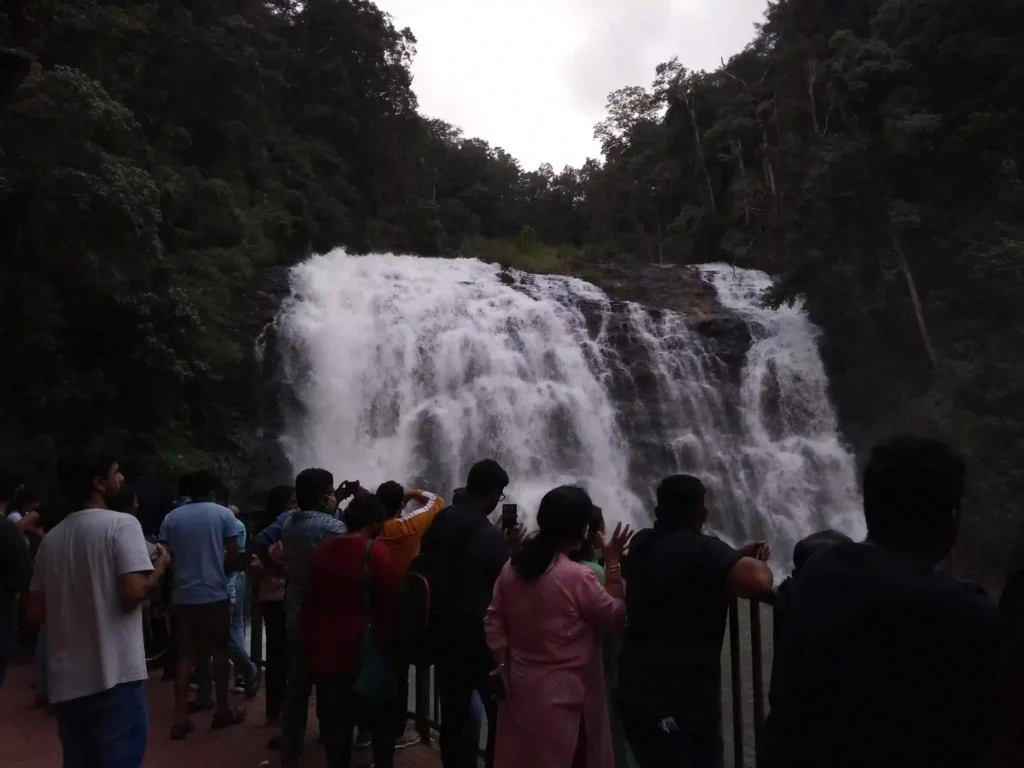 This was a complete disappointment for me. There is an entry/parking charge of Rs.40. You will have to walk for 10/15min to reach the waterfall.
All you can do is watch the fall from inside a cage. I felt like a zoo animal who is locked in a cage for visitors to see. The only thing is here you are the one in the Cage!
4. Raja's Seat:
This is a beautiful garden (some work was in progress when I visited). A beautiful sunset point and a nice place to relax.
The entry fee is Rs.10 but I saw some guys just walk in without tickets and the security guard looked helpless. The best time to visit is sunset time. Just grab a good spot and enjoy the natural beauty, sunset, and cool breeze.
5. Omkareswara Temple:
This temple is in the heart of the city. Apart from the divine experience, you will enjoy feeding fish in the water body at the center of the temple.
Note: Even though the signboard says jeans are not allowed, its not strictly enforced. Make sure you have dressed appropriately for the temple. 
On the way back from Coorg, you can visit these places:
Chikli Hole Reservoir:
You will love the view and ambience of this place. No one is allowed to enter the water here but the view is awesome with some great photogenic spots.
Entry here is free. 
Dubare Elephant Camp
The elephant camp is located on the bank of river Cauvery. The timings for Elephant bathing and feeding is 9 am to 11 am and 430pm to 530pm.
You will have to take a boat to reach the elephant camp (Rs.30/ for the boat ride). Once in an elephant camp, you will have to buy tickets to feed and participate in elephant bathing (Rs20 and Rs100/ respectively is the cost)
You can also opt for a jungle ride on an elephant!
Apart from these, you can sit at the bank of the river and soak your feet in the cold water (free). You can also take a horse ride (Rs.150) for 5-7 minute ride.
How to go around in Coorg: Bike Rental In Coorg
In case you reached Coorg on the bus or do not want to use the car in Coorg, you can easily get bikes for rent. Coorg is a small place and you can easily cover it on the bike.
Coorg weather
The weather in Coorg is pretty cold at night and early mornings. It gets hot as the day progress.
Coorg homestay
There are many homestays in Coorg that offer affordable stays. It\'s like Airbnb. You get a fully equipped apartment. To book a homestay, you will get an option on your booking site. You can filter on Homestay to get a list of only homestays.
Tip: Google the name of Homestay after looking it up in the booking portal and book directly with them. It will save you some money!
Affordable apartment in Coorg
Get yourself a room for as little as Rs.1000
I got a 2bhk with attached kitchen in Coorg for Rs.2000/- per day. The apartment was clean, and the kitchen had cooking gas and utensils for cooking.
The hall had a sofa, TV (local channels), and dining table. I stayed with my family of 5 for 2 days and it was pretty comfortable.
The stay was EshwariInn, near Omkareshwar Temple. You can book directly by calling the owner Mr.Lohit on 9448325743. This will save you around Rs.300-500/- per day on your stay!!
Eating places in Coorg
You will find a good option for both Veg (Udipi restaurants) and Non-veg lovers in Coorg. The city center has all kinds of restaurants and utility stores.
Bangalore to Coorg in 5hrs?
National Highway Authority Of India\'s plan is to build a road to bypass Mysore that will reduce the travel time from around 8hrs to 5hrs.
Madikeri named after King Muddu Raja Keri
Conclusion:
In case you do not have anything else to do, you can plan for Coorg. I did not find Coorg very appealing. The effort & money I spent to reach there did not justify the Coorg experience. Mornings are good but once sun is out, Coorg loose its "Hill Station" tag.
Better Avoid.
Where is Coorg?
Coorg is a hill station in India, it's in the southern state of Karnataka. You can plan to visit coorg if your in Bangalore or Mysore.
Why is Coorg called the land of rolling hills?
Coorg is a hill station with lots of hills. Most of the points near Coorg is situated on different hills and to reach there you get the feeling of rolling down, hence the name rolling hills.
Do read more informational posts on Places To Visit In India
Related Posts: